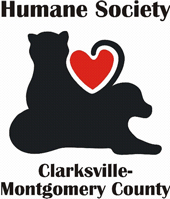 Clarksville, TN – The Humane Society of Clarksville-Montgomery County's partnership with World Spay Day has made the Humane Society eligible for Grant funding just by participating in World Spay Day's Pet Photo Contest.

All you have to do is enter your pet photo(s) for FREE and select the Humane Society of Clarksville-Montgomery County (HSCMC) as your charity of choice. The Humane Society will receive 100% of vote funds collected for photos earmarked with for HSCMC.

Plus, the Humane Society will also receive a portion of a much, much larger pot of money that will be divided equally between all of the World Spay Day participants (up to $1,000, which is Big $$$ for the Humane Society since they are accustomed to doing a lot with a little).

If entering a photo isn't your thing, please consider voting for an HSCMC photo – there are currently 26 to choose from. The contest runs the entire month of February. Let's rack up some awesome phots and votes to represent Clarksville, TN in this national photo contest!



Sections
News
Topics
Clarksville TN, Humane Society of Clarksville-Montgomery County, Pet Photo Contest, World Spay Day