Clarksville, TN – On Saturday, April 7th, Hilltop Supermarket held their 17th Annual Easter Egg Hunt. The event started at 11:00am with food, inflatables, face painting, cupcake decorating and more.
The easter egg hunt was broken down into four groups; up to 4 year olds, 5 to 6 year olds, 7 to 9 year olds and the 10 to 12 year old group.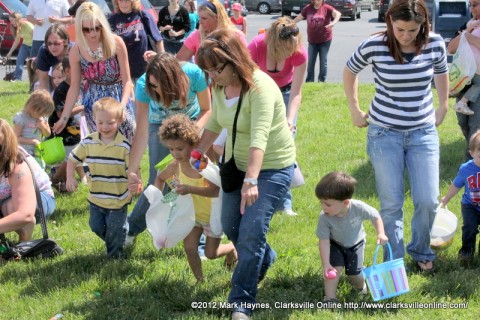 When the 2:00pm start time came around, over 600 children lined up along the fields ready for their chance to grab some eggs. There were 5,000-6,000 easter eggs on the fields waiting to be picked up by little hands. Once the horn sounded, it did not take long for all the eggs to be swept off the grass.
Afterwards, children and parents alike were opening the plastic eggs to see what they had gotten. The eggs contained a variety of items such as candy, stickers, temporary tattoos and prize tickets. A few lucky ones had eggs which contained a grand prize ticket.
Those with prize tickets got in line to see what they had won. Jordin Mickle was a winner of a pogo stick. The following grand prize winners won bicycles; Wayne Scott, Trinity Babbs, Chloe Woodall, and Malachi Miller.
"We were overwhelmed with the turn out to this year's event." stated Mike Jackson, Store Manager. "Last year we had just over 400 kids turn out for the easter egg hunt and this year it was well over 600. Looks like we are going to have to expand next year and add more eggs. "
"One lady told me she drove over 20 miles to bring her family to our Easter event." said Wayne Hall, owner of Hilltop Supermarket. "I started this 17 years ago to give back to our local community. I am amazed each year with the turnout."
No event of this size can be pulled off without a lot of help. Hilltop Supermarket employees and family turned to the local community for volunteers, Montgomery Central High School students, Palmyra Volunteer Fire Department and Montgomery County Sheriff's Department officers all answered their call.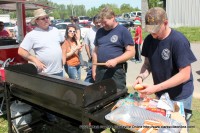 The Palmyra Volunteer Fire Department was on hand helping watch the kids during the easter egg hunt, manning the concession stand as well as cooking hotdogs and hamburgers on the grill. All proceeds from concessions went to the Fire Department fund.
"It was over 10 years ago when Wayne Hall first invited us to the event. We have been coming back every ever since." stated Mike Donaghey, Palmyra Volunteer Fire Department Fire Chief. "We enjoy coming out and giving back to the community that supports us."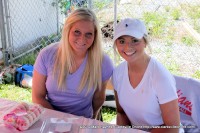 Students from Montgomery Central High School's National Honors Society volunteered to come out and help with the event. They could be found manning the face painting booth, the cupcake decorating booth and helping with the inflatables. "Part of being in the National Honors Society is doing some community service. We saw Hilltop's Easter Egg hunt as a great way to do this and give back to our community." said Montgomery Central student Bailey McMaham.
"I do not know how we could have pulled this off without the help of the Montgomery Central student volunteers. They were a life saver." commented Mike Jackson.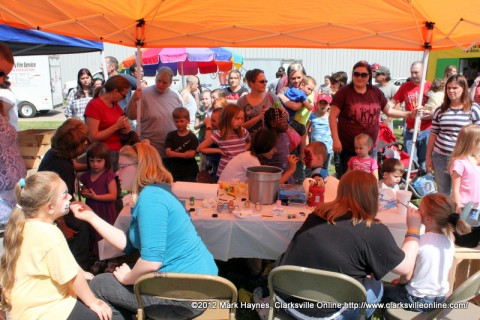 Satellite Electronics and Movies n' More helped sponsor the easter egg hunt. Owner Bridget Rouse said, "This is such a great event for the community every year and we wanted to get involved to help sponsor it. It is a great way for us to give back to the community that helps us."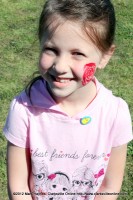 "I wanted thank everyone for coming out today. I also want to thank the Montgomery Central students, the firefighters, the Sheriff's officers and all the volunteers that were on hand helping today. They are really what makes this such a great event." said Mike Jackson.
Be sure to remember to come out to next years event. It just keeps getting better and bigger every year.
Hilltop Super Market will hold their 3rd annual BBQ Cook Off May 11th and 12th, 2012. For more information, see: Hilltop Super Market to hold 3rd Annual BBQ Cook Off
Photo Gallery
About Hilltop Supermarket
Hilltop Supermarket is located at 400 Highway 149, Clarksville TN. From Clarksville, you would take Hwy 48/13 south across the river, turn right on highway 149 and Hilltop Supermarket is located on the left at the top of the hill next to Freds. Hilltop serves the grocery needs of southern Montgomery county area.
Visit their website at: www.hilltopsupermarket.com.