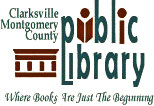 Clarksville, TN – If you are a reader and haven't discovered the Friends of the Library Book Sale, you don't know what you're missing. Imagine hundreds of books at bargain prices all in one room and you have a hint at what goes on.
The sale is held twice a year—and last Saturday was the Spring sale. It takes place at the Clarksville-Montgomery County Public Library (350 Pageant Lane) in a trio of rooms just to the right of the entry to the library door.
You'll find an entire room dedicated to books for children and the second room filled with fiction paperbacks and hardbacks plus hundreds of nonfiction books. Behind this room is another with DVDs, videos, gardening and cook books, books on religious subjects and scores of craft books.
In case you think you're getting only well-thumbed second hand rejects, think again! Most of these books are in mint condition gleaned from the libraries of generous patrons who donate their well-loved books after they have been read only once.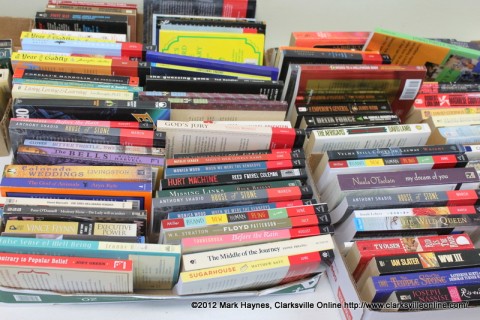 What kind of bargains can you find? It is not unusual to find best sellers from the past year, vintage authors whose books might sell for hefty prices were they in a rare bookstore, and even large sections of books by your own favorite authors. My mother found two books in the older books section that she had read when she was a child (and she's 87!). I found eight mysteries by one of my favorite authors—and each was a real bargain, pennies on the dollar of the original bookstore price.
The sale lasts from Thursday night through Saturday afternoon with prices beginning at a few dollars for each book. As Saturday afternoon begins to close the sale, the prices drop to fifty cents for a hardback fiction and an entire bag of paperbacks for only $4.00 or $5.00! How can you beat that deal! I bought about forty books for a mere $15.00, the price of one oversized paperback in a bookstore. Such a treasure of reading for so little money!
Here's how this book sale can bring in much needed funds for Friends of the Library—volunteer helpers. This year's 31 volunteers included Lisa and Clayton Baggett, Gerald and Nancy Beavers, Allison and Seth Bennett, Anne Black, Parker Chittenden, Ruby Cox, Jacqueline Crouch, Shirley and Charlie Hood, Hazel Irwin, Gail Longton, Harriett Mabry, Barbara Miller, Billyfrank Morrison, Linda Nichols, Clarissa Pulley, Suzanne Schaaf, Malinda Scott, Coral Thomas, and Barbara Wilbur, to name a few.
These dedicated volunteers collect the books, organize, shelve and arrange the books on convenient tables, run the cash register, assist shoppers in finding what they are looking for, provide bags and boxes for the treasures, help you to your car with your purchases, and pack up the books that are left over. Their smiles and helpful assistance makes the sale a joy to attend.
The next sale is October 22nd through 27th so be sure to put it on your calendar. If you join the Friends of the Library, they will send you a notice prior to the sale so that you'll be sure to remember to go.
The individual membership is $5.00, Family $10.00, Patron $25.00, Tyler $50.00- up to corporate level at $1,000.00. Funds from Friends goes to assist with the Children's Summer reading program first and other projects for the library as funds allow.
Friends also provide to the public a book talk, the first Monday of every month at noon, except for June, July and August. On May 7th, Carolyn Ferrell will speak about her new book, Occupied.
One volunteer said that a group of kids in the children's book room settled on the floor to look at their books while their parents shopped. Each was entirely engrossed in his book while the chatter of shoppers went on around them. Another was lying on her tummy with her book taking all her attention. It was wonderful to view the next generation of book lovers taking up their favorite hobby at so early an age.
Become a Friend of the Library and by all means, attend the Fall and Spring Friends Book Sale. Reading is tantamount to learning and having fun at the same time; the mind you improve will definitely be your own.
Photo Gallery