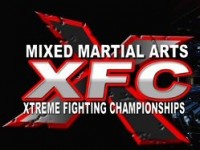 Clarksville, TN – The professional fighters from Clarksville's SSF Submission Academy went 3-0 this weekend and looked impressive doing so.  "They were major underdogs," said Ron Dayley, owner of the gym.
The biggest underdog was Michael Graham (1-0) who won a 30-27 decision victory over Cory Robison in his professional debut at XFC 18 at Nashville's Municipal Auditorium.
Graham frustrated Robison by not letting him turn the fight into a ground grappling battle, which would have likely worked to his advantage. The crowd was stunned to see Graham outmaneuvering his popular opponent. Graham, wearing a mohawk to complement his vicious style, was eager to make an impression.
"Everybody counted me out before the fight," said Graham. "That was the sweetest part of it. Everyone thought I was gonna go out there and get blasted. XFC put all their promotion behind Cory Robison."
As fight night approached, Graham appeared to be withdrawn and focused. Daley stirred anger in his young fighter by calling him a sissy and other names, hoping to generate an aggressive performance. Graham put on the great show that Daley desired, but ultimately got the last laugh. "If he won the fight, I told him I'd go to church with him every Sunday," said Dayley. Keeping his word, Dayley now sits next to Graham every Sunday at church.
Nate Landwehr (1-0) knocked out Billy Mullins in 1:22 of round 2 at the same event. Even after he had Mullins hurt, Landwehr kept attacking until he was halted. "I knew his cardio wasn't gonna be there in the second round," said Landwehr. The fighter was so full of adrenaline that he couldn't keep still during his post-fight interview. Hopping up and down between questions, he hollered out "Nate The Train, baby!! Whoo!!" He then flaunted his muscles for the camera. Mullins, a Pan Am World BJJ Champion and BJJ black belt, was the favorite going into the fight. That didn't matter to Landwehr. "Nate's like a rat on crack," observed Dayley.
The following night in Memphis, TN's Agricenter, Chris "Dodgin" Coggins lived up to his name as he quickly defeated Austin Lyons by submission in 1:30 seconds of round 1 at Empire Fights. Lyons had trouble catching Coggins early on. "He had a really hard time hitting me," said Coggins, who has the mobility of a prime Muhammad Ali. Eventually, Lyons got impatient and jumped on Coggins. As they struggled on the floor, Coggins noticed his opponent's arm was open and locked him in an armbar. Seconds later, the fight came to an end. "It was nasty. I could definitely hear the arm crunching," recalled Coggins. "He was tough. He wasn't screaming, but his teammates had to carry him out."
Coggins is more than pleased with his performance. "My hand speed and strength definitely showed. I was in-and-out a lot. That's why they call me 'dodgin.'" After his victory, Coggins ran after the cage celebrating. He has received offers to fight in the XFC in Knoxville, and is also planning a possible boxing match in August.