APSU Sports: Austin Peay Women's Golf

Coral Springs, FL – Five Austin Peay State University golfers have been named to the National Golf Coaches Association (NGCA) All-American Scholar Team.
Holly Batey, a rising senior, had a 3.8 GPA for the 2011-12 academic year in accounting and international management. Junior Tabitha Beard had a 4.0 GPA as a K-6 education major this year.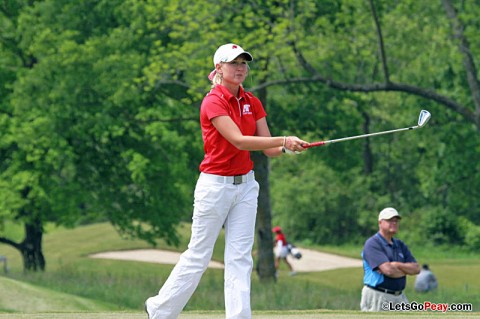 Junior Rachel Deaton had a 3.9 GPA as a computer science major/information systems major. Sophomore Meghan Mueller had a 3.812 GPA as a mass communications major. Freshman Marta Gutierrez had a 3.678 GPA with an undeclared major. All five were named to the prestigious team.
In the spring, Batey, Beard and Deaton all were nominated for Capital One Academic All-America honors, with Batey and Beard also sharing APSU's Scholar-Athlete Award at the annual athletics banquet.
The criteria for selection to the NGCA All-American Scholar Team are considered to be some of the most stringent in college athletics—the minimum cumulative GPA is 3.50.
Overall, a total of 585 women college golfers were recognized with the prestigious honors, including 368 Division I golfers. It is the second straight year Austin Peay has had five golfers named to the All-American Scholar Team.