Clarksville, TN – Goodbye gray skies, hello blue!  Happy days are here again with Arthur "The Fonz" Fonzarelli, Richie, Potsie, Ralph Malph and all of the gang in the Roxy Regional Theatre's production of "Happy Days", opening Thursday July 12th, at 7:00pm.
This new musical based on the hit television series reintroduces one of America's best-loved families, the Cunninghams, to a whole new generation, taking audiences back to the days of 1959 Milwaukee, complete with varsity sweaters, hula hoops and jukebox sock-hoppin'.
When the famed drive-in malt shop and number one hangout, Arnold's, is in danger of demolition, the gang teams up to save it with a dance contest and a TV-worthy wrestling match.
With music and lyrics by Oscar-winner Paul Williams and a book by the TV series' original creator Garry Marshall, this perfect family-friendly musical will have you rockin' and rollin' all week long!
Starring Regan Featherstone as "The Fonz," Rob Rodems as Richie Cunningham and Kaitlin Doughty as Pinky Tuscadero, "Happy Days" features Ryan Bowie (Potsie), Josh Bernaski (Ralph Malph), Ben Prayz (Howard Cunningham), Jama Bowen (Marion Cunningham), Hannah Church (Joanie Cunningham), Travis Kendrick (Chachi), Darren Michael (Arnold), Humberto Figueroa, Erin Keas, Ashley Laverty, Sean Ormond, Kourtni Cottrell, Taiylor James, Truman Jepson, Samantha Grimes and Madeline O'Connor.
The musical is directed and staged by Tom Thayer, with choreography by Emily Ford, and features Thayer on piano, John Waddle on guitar, Bruce Ervin on saxophone, Jarrod Jackson on bass and Thad Wallus on drums.
Thursday, July 12th, at 7:00pm is the pay-what-you-can preview for "Happy Days". All tickets not pre-sold at the regular ticket price will go on sale at 6:30pm for whatever price you wish to pay.
On Saturday, July 21st, at 6:00pm, celebrate summer with a hamburger and hotdog cookout "down under" at F&M Bank, followed by an 8:00pm performance of  "Happy Days" at the Roxy.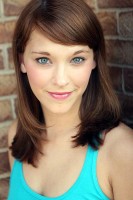 Tickets are $40.00 (adults) and $20.00 (ages 13 and under), and all proceeds support the new center for arts and education.
"Happy Days" runs July 12th through August 18th, playing Wednesdays and Thursdays at 7:00pm and Fridays and Saturdays at 8:00pm, with a 2:00pm matinee on Saturday, July 21st. There is no performance on Saturday, July 14th. Tickets are $20.00 (adults) and $15.00 (ages 13 and under) and may be purchased online at www.roxyregionaltheatre.org , by phone at 931.645.7699, or at the theatre during regular box office hours (9:00am to 2:00pm, Monday through Friday).
This production is made possible in part through the generous support of Planters Bank.