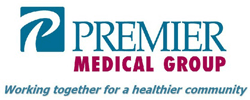 Clarksville, TN – Premier Medical Group is pleased to announce the addition of Dr. Wilson Eseme to their occupational medicine department.
Dr. Eseme, a native of Cameroon, earned his medical degree from the University of Yaoundé, Cameroon and completed additional studies at University College in London, UK and Meharry Medical College. He completed his occupational medicine residency at Meharry Medical College in Nashville.
Eseme is board certified in occupational medicine, an active Medical Review Officer and currently sits on the Board of Tennessee College of Occupational and Environmental Medicine (TCOEM).
When asked why he chose occupational medicine as a specialty, Dr. Eseme explains, "Occupational Medicine has perhaps the broadest scope of any medical specialty. It provides that unique blend of active preventive and clinical practice. Most physicians are either clinical or preventive. Occupational Medicine allows for both."
"Premier Medical is the only active provider of Occupational Medicine in the Clarksville area which is experiencing and is going to experience even more of an industrial boom. If ever there was such a thing as "perfect timing", this is it for Clarksville in terms of the practice of Occupational Medicine," he explains.
Dr. Eseme adds, "The ability to work with labor and business and trying to make both parties see the role we play, it is a very fine line. To find that line is what makes me get up every day."
Dr. Eseme is focused on providing preventative and clinical care for area companies and employees. He is accepting new patients at the Premier Medical Primary Care Clinic located at 2831 Wilma Rudolph Boulevard. To schedule an appointment, call 931.245.8694 or visit www.premiermed.com.