Specially Designed Trailer Brings State Parks' Unique History to Communities Across Tennessee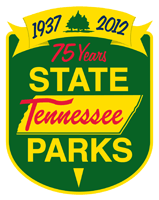 Nashville, TN – Tennessee Department of Environment and Conservation Commissioner Bob Martineau and Deputy Commissioner Brock Hill today announced the premiere of Tennessee State Parks' new traveling anniversary exhibit that will take state parks' unique history on the road.
Beginning this week, the traveling exhibit will tour state parks and various communities in honor of Tennessee State Parks' 75th Anniversary.  Enclosed in a colorful trailer emblazoned with Tennessee State Park images and logos, the exhibit interprets the origins and heritage of the park system.
"This new traveling museum will spend the next year traveling the state, sharing Tennessee State Parks' rich and storied history," Martineau said.  "The exhibit will help educate the public about the importance of protecting Tennessee's natural and historical resources, while touching on the state and federal programs that helped bring about our great park system."
Programs such as the Civilian Conservation Corps, the Works Progress Administration, and elements of the U.S. departments of Agriculture and the Interior are highlighted, telling the story of how their efforts helped shape not only many of Tennessee's own state parks, but most state park systems across the country. From obtaining land and building infrastructure to creating an environment for state park movements to flourish, these state and federal efforts were key components in creating the park system we enjoy today.
The National Park Service also played a large role in planning and organizing the overall effort and obtaining the individual parcels that were destined to become state parks. From there, states committed to taking on the land ownership and the responsibility for resources, land bases and infrastructure, along with the responsibility for the long-term management and stewardship of these properties.
The Tennessee Department of Conservation and its Division of State Parks, formally known as TDEC today, filled this need for the state of Tennessee when the Origin Act for these organizations and their responsibilities was passed 75 years ago.  Tennessee was one of a handful of states that stepped up at an early time to take on its responsibilities to provide protection for its natural, cultural and outdoor recreation resources.
"Today, there are 54 state parks in Tennessee and each one tells its part of our history, relaying its unique nature that gives all our sites their own spirit of place," Hill said.  "When the Tennessee state park system was 30 years old, there were just 26 parks on the roster. However, the system has grown remarkably since that time and continues to offer new opportunities, including this year's opening of our 54th addition at Cummins Falls in Jackson County."
Most Tennesseans now have a state park within an hour's drive and in most cases more than one type of park to visit, representing a healthy state park system of diverse parts and opportunities.  While providing a wide range of outdoor recreational opportunities, Tennessee State Parks represent the state's heritage in the landscape – reflecting not only the diversity of Tennessee's geologic and ecological regions, but also the diverse stories that span over 200 years of state history and the region's incredible pre-historical presence.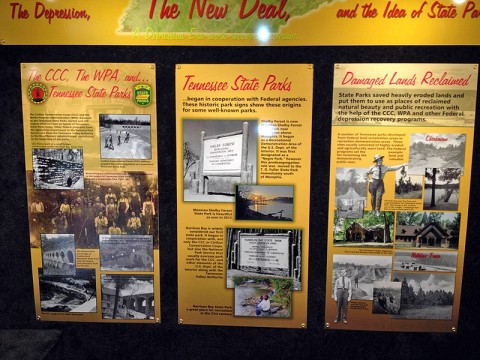 "Tennessee's state parks deliver a rich fabric of natural landscapes, wild places, preserved ecologies, outdoor recreational opportunities and protected historic scenes and resources – together representing the heritage of Tennessee in the landscape," added Hill. "As Tennessee Governor Bill Haslam proclaims July as Tennessee State Parks Month, our new traveling exhibit is winding its way through the state, helping educate our communities about the important historical role our state parks have played and their continued importance to our quality of life."
Tennessee State Parks' new traveling exhibit is based out of a trailer on loan from the Tennessee Wildlife Resources Agency.  The exhibit's artwork, displays and interpretative panels were designed and coordinated by Tennessee State Parks' Chief Historian Ward Weems, with assistance from the Tennessee Department of Environment and Conservation and volunteers from both the private and public sectors.
Tennessee's 54 state parks and 82 state natural areas offer diverse natural, recreational and cultural experiences for individuals, families or business and professional groups. State park features range from pristine natural areas to 18-hole championship golf courses. For a free brochure about Tennessee State Parks, call toll free at 1.888.867.2757.
To find out when Tennessee State Parks' new traveling exhibit will be in your area or for details about upcoming events in connection with the 75th Anniversary, please visit the state parks website at www.tnstateparks.com.
In commemoration of the 75th Anniversary of Tennessee State Parks, the Tennessee Department of Environment and Conservation launched an innovative new microsite at www.tnstateparks75.com. Established in partnership with the Tennessee Department of Tourist Development, the microsite displays Tennessee State Parks' rich heritage and showcases the many outdoor adventures awaiting state park visitors through rich media and dynamic content.