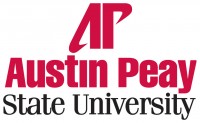 Clarksville, TN – Several faculty and staff members at Austin Peay State University announce their recent professional and scholarly activities.
Dr. Chad Brooks, associate professor of biology, co-authored an article about an amphibian-lethal virus in west Tennessee, and the article is published in the latest edition of Herpetological Review. The title of the article was "Further presence of ranavirus infection in amphibian populations of Tennessee, USA."
Dr. Korre Foster, assistant professor of music, attended the National Symposium on American Choral Music held June 28th-July 1st in Washington, D.C. He presented research on Walt Whitman's poetic influence on the American choral style. He also has been appointed as a board member to the National Collegiate Choral Organization. Beginning with the 2012-13 academic year, he will represent Tennessee to the national organization.
Donna Price, director of student financial aid, and Telaina Wrigley, registrar, recently presented at the Sungard Summit National Conference. Wrigley presented on the workflows created to improve office efficiency, and Price delivered a financial aid presentation.
Connie Sanders, director of the Child Learning Center, and Claudia Rodriguez, director of the Tennessee Early Childhood Training Alliance, participated in the Early Connection Network Summit on July 17th and 18th. The Early Connection Network is a mental health system of care for children birth to 5 years old and their families in Cheatham, Dickson, Montgomery, Robertson and Sumner counties. Sanders also attended the Social and Emotional Learning Conference on July 16th in Nashville, presented by Alignment Nashville and Metropolitan Nashville Public Schools.
Dr. Tim Winters, professor of classics, is completing instruction of a graduate course in archaeology for the American School of Classical Studies in Athens, of which APSU is a contributing member. His position is Gertrude Smith Professor of Classics, and this is the third time he has directed this program. In the course, he taught 14 Ph.D. candidates from Berkeley, Brown and other universities, as well as three secondary school teachers and two undergraduate students. Participants visited more than 100 sites in six weeks.