Nashville, TN – Cooking with your kids has so many benefits, it's hard to name them all – from better nutrition to improved behavior. But one thing is for sure – cooking together is just plain fun, especially when you can make something quick and delicious that's fun to put together like a parfait.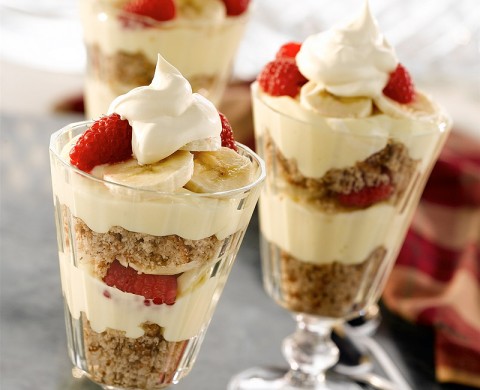 Banana Berry Pudding Parfait is made with layers of crumbled banana nut muffins, fresh bananas and berries, and pudding made from an easy mix. The addition of sour cream to the instant pudding mix gives it a rich creamy flavor that makes it taste almost as good as homemade. And the muffin layer is made from a banana nut muffin mix. Reminiscent of old-fashioned banana pudding, this quick and easy treat is sure to become a family favorite.
Banana Berry Pudding Parfait
Crisco® Original No-Stick Cooking Spray
1 (7.6 oz) package Martha White® Banana Nut Muffin Mix
2 1/2 cups milk, divided
1 (3.4 oz.) package instant vanilla pudding and pie filling mix
1 cup (8 oz.) sour cream
3 bananas, sliced
1 1/2 cups raspberries, sliced strawberries or blueberries
Whipped topping, optional
Heat oven to 425° F. Spray 6 muffin cups with no-stick cooking spray. Combine muffin mix and 1/2 cup milk in small bowl; stir just until moistened. Fill muffin cups about 2/3 full. Bake for 12 to 17 minutes or until golden brown and toothpick inserted in center comes out clean. Cool 2 to 3 minutes in pan. Remove from pan; cool on wire rack.
Combine pudding mix, remaining 2 cups milk and sour cream in medium bowl. Beat with whisk for 2 minutes. Let stand 5 minutes or until soft-set.
Coarsely crumble half a muffin in the bottom of a parfait or 8-oz glass. Over crumbs, layer 1/4 cup pudding, one fourth of one sliced banana and a few berries. Repeat layers. Garnish with whipped topping, if desired.
6 servings
---
Crisco is a registered trademark of The J.M. Smucker Company.