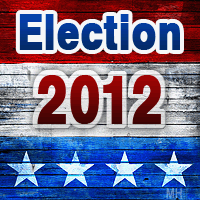 Distinguished military veterans gathered in downtown Clarksville this morning to show their support for Republican State Senate candidate Mark Green, who is running against incumbent Democratic State Senator Tim Barnes in the November election.
Lieutenant General Hubert "Hugh" G. Smith (U.S Army, Ret.) opened the event, held at F&M Bank by saying, "Our next State Senator will need to be a strong advocate for veterans, and no one has been more supportive or better understands the needs of veterans and their families than someone who has served in the foxhole with them.  For this reason, I am proud to be one of Mark's Co-Chairs of his veterans committee.  We are proud not only to support Mark, but we intend to do all we can to help others learn why Mark Green will be such an outstanding State Senator for Tennessee."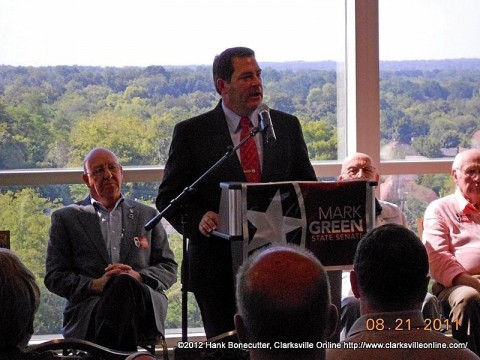 Joining General Smith today, and co-chairman of the "Veterans for Mark Green" committee was Brigadier General Wendell Gilbert (U.S Army, Ret.) He was also joined by Brigadier General Frank Cunningham III (U.S Army, Ret.), Command Sergeant Major Sidney Brown (U.S. Army, Ret.) and former Clarksville Mayor and Colonel Ted Crozier, Sr. (U.S. Army, Ret.).
"Mark Green has worked tirelessly in our community through the years in support of our military and on veterans' issues. He's one of us," Croziers said.
Green spoke to his concerns about support for military families, and support for the soldier who fights for the freedoms we all enjoy today.  He was also humbled at the servicemen who have shown him support.
"I am honored and grateful to have the support of these true Tennessee heroes and patriots" Green said, referring to the veterans at today's event.
Green was joined by his wife "Camie" at today's event.  The Greens have two children, Mitchell and Alexa.  Green is the President and CEO of Align MD, an emergency department, management and staffing company based in Clarksville.  Mark Green is most noted for his book, "A Night with Saddam,", which details the night Saddam Hussein was pulled from a hole in the ground near the Iraqi town of Adwar.  Dr. Green was the chief medical officer for that operation.
To learn more about Mark Green, visit www.markgreenfortennessee.com.
Photo Gallery