APSU Sports: Austin Peay Football

Clarksville, TN – For more than a decade, Austin Peay's offensive line was the model of stability, a source of strength under Bill Schmitz, Carroll McCray and Rick Christophel.
However, longtime assistant Steve Haywood left after the 2010 season and his replacement Tyler Trent left after one season to pursue interests outside of football.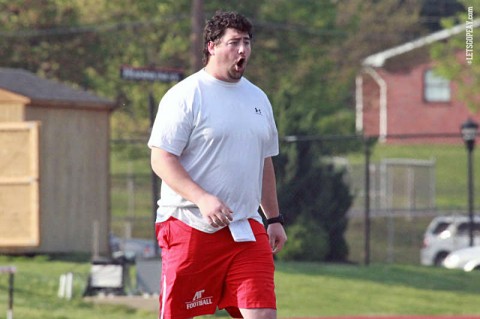 In other words, the Govs offensive line now has its third coach in three seasons.
Head coach Rick Christophel hired Jason Palermo, the son of former APSU head coach John Palermo, who took over the line in the spring. The younger Palermo played for Wisconsin in a program that largely is considered one of the best at producing offensive lines and linemen.
"In the spring we wanted Jason to learn his players," Christophel said. "We knew he knew the system and that he was very knowledgeable, but it was of a case of him getting to know his players."
Palermo systematically did that in the spring. He began developing a strong rapport with his linemen, the one area that was hit hard by graduation-APSU lost three-year starting center Tim Schmid and both offensive tackles-from a team that ranked 37th nationally in rushing offense and 13th in sacks allowed.
However, the Govs return junior starting guard Chris Hartman as well as senior Jacob Langston, a starter at guard in 2011 who has moved to Schmid's spot at center.
"The good thing is we have Ben Stansfield at right tackle and he has started for us in the past," Christophel said. "And we have Kyle (Harrison) at left tackle and he has started as well. (Guard) Gavin Willisson also has experience at guard, so it is not like they have not been tested.
"(Reserve guard) O.C. Brown played some at Southern Miss. (Reserve) Nathan Sanders played for us some last year. (Back-up center) Isaiah Tuiasosopo played last year at defensive tackle. Other than (redshirt freshmen tackles) Julian Virgo and Melvin McDaniel, these guys have all played-our goal is to have eight guys up front that we really can count on."
Since practice began in the fall, a different Palermo has begun to emerge, somewhat reminiscent of his father.
"Jason has learned his players and they also know him-how bad he wants them to succeed," Christophel said. "He has started to assert himself. He is a very intense individual and his players are starting to take on his personality-that is what we want from our players."