Clarksville, TN – On August 30th, 2012, around 8:49am, Clarksville Police were called to 111 ½ Riverview Drive in reference to a man shot inside of the residence.
When officers arrived, they found a 24 year old man on the floor who had been shot in the neck, conscious and breathing. The man was taken to Vanderbilt by Lifeflight in stable condition.
According to a witness account, there were sounds of a struggle inside of the house and a gunshot The witness saw the 24 year old man laying on the floor with a gunshot wound to the neck and two men fleeing from the house. Police were called at that time.
Officers combed the area and had contact with several men meeting the limited description which was disseminated, but they did not prove to be the suspects.
Officer Gabriel Johnson and his K-9 were able to track the suspects to the area of Kelly Lane before the track was terminated.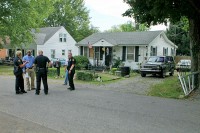 There were several items of physical evidence gathered when the crime scene was processed.
The suspects were described as a white male and a black male in their late teens or early 20s.
The lead investigator is Detective Vince Duke, 931.648.0656, ext 5438 or the TIPSLINE, 931.645.8477.