APSU Sports: Austin Peay Volleyball

Springfield, MO – Sophomore outside hitter Jada Stotts continued her torrid hitting pace at the University Plaza Invitational, posting a career-high 22 kills to help Austin Peay State University's volleyball team eke past UALR in five sets (28-30, 25-20, 30-28, 21-25, 15-13), Friday night at the Hammons Center.

Stotts, who recorded a team-best 13 kills in a morning loss to No. 11 Dayton, posted her 22 kills while committing only five errors (.254 attack percentage). She was at her most dominant in the third set, scoring eight of the Lady Govs 15 kills in the set, including three in overtime en route to a 30-28 win.

She was not the only Austin Peay (2-5) player to find their stride against UALR (2-3).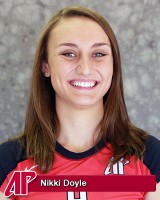 Senior outside hitter Nikki Doyle notched a season-best 19 kills – her first double-digit kill outing since the season opener – including 11 kills in the first two sets. Junior middle blocker Lauren Henderson added a career-high 16 kills.
All of the offensive firepower was necessary in a tight match decided by three total points over five sets. The match featured 24 lead changes and 47 ties, with Austin Peay and UALR going into overtime in both the first and third sets each before a result was reached.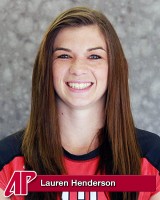 The fifth set was the epitome of the entire match. Austin Peay held a 4-2 lead until UALR scored five consecutive points to take its first lead, 7-4. The Lady Govs would later use a 7-0 run, with four kills and three UALR errors helping the cause, to build a 13-9 advantage. Austin Peay could not close the door as the Trojans used a 3-0 mini-run to get back within a point, 13-12. The Trojans would give the Lady Govs match point on an error and APSU capitalized two points later on a Henderson kill.
"We played hard the entire match," said Lady Govs head coach Taylor Mott. "It wasn't a pretty match but we battled for every point. I'm proud of the team for pulling out a much-needed win."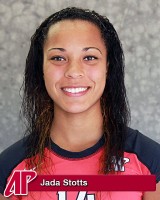 Austin Peay won despite being out hit as UALR posted an 80-71 advantage in kills. However, the Lady Govs committed fewer errors (35-20) in all aspects of the game to overcome the offensive shortfall.
UALR's Edinia Begic led all hitters with 26 kills. Eva Xie added 21 kills off the bench and Adisa Hodzic chipped in 17 kills.
Austin Peay continues its stay at the University Plaza Invitational with a 10:00am, Saturday contest against Oral Roberts.
Box Score
Austin Peay vs UALR
(08-31-12 at Springfield, MO)
Austin Peay
ATTACK
SET
SERVE
SRV
DEF
BLOCK
GEN
##
Player
SP
K
E
TA
PCT
A
SA
SE
RE
DIG
BS
BA
BE
BHE
Points

1

FIELDS, Cami

5

2

0

6

.333

59

1

2

0

20

0

1

0

0

3.5

2

HULL, Calyn

2

0

0

2

.000

1

0

0

0

5

0

0

0

0

0.0

9

DOYLE, Nikki

5

19

10

63

.143

1

0

1

0

13

0

1

0

0

19.5

12

HENDERSON, Lauren

5

16

5

31

.355

0

1

0

1

12

1

2

0

0

19.0

14

STOTTS, Jada

5

22

5

67

.254

1

2

0

2

16

0

4

0

0

26.0

15

PLYBON, Hillary

5

8

7

27

.037

0

1

0

0

4

1

2

0

0

11.0

3

ADAMS, April

5

0

0

0

.000

2

0

0

0

11

0

0

0

0

0.0

7

MARSELLIS, Aubrey

1

0

0

0

.000

1

0

0

0

0

0

0

0

0

0.0

8

LANDON, Liz

4

4

2

12

.167

3

0

1

0

6

0

2

1

0

5.0

Totals

5

71

29

208

.202

68

5

4

3

87

2

12

1

0

84.0

TOTAL TEAM BLOCKS: 8.0
TEAM ATTACK BY SET
Set
K
E
TA
Pct
Sideout
Pct

1

16

9

56

.125

20-30

66%

2

20

3

44

.386

17-20

85%

3

15

9

51

.118

18-29

62%

4

10

4

30

.200

13-24

54%

5

10

4

27

.222

7-15

46%

75-118

63%

SET SCORES
1
2
3
4
5
TEAM RECORDS

Austin Peay

(3)

28

25

30

21

15

2-5

UALR

(2)

30

20

28

25

13

2-3
UALR
ATTACK
SET
SERVE
SRV
DEF
BLOCK
GEN
##
Player
SP
K
E
TA
PCT
A
SA
SE
RE
DIG
BS
BA
BE
BHE
Points

1

Wyatt, Allison

5

0

0

1

.000

3

1

2

0

17

0

0

0

0

1.0

2

Hodzic, Adisa

5

17

6

33

.333

1

0

0

1

3

0

3

1

0

18.5

4

Souza Moura, Daniele

5

8

5

23

.130

4

0

0

0

4

1

6

0

0

12.0

8

de Zoete, Marleen

5

5

0

12

.417

71

0

1

0

8

0

2

1

0

6.0

9

Begic, Edina

5

26

8

69

.261

0

1

2

0

26

1

1

0

0

28.5

10

Shaedig, Sawyer

5

3

3

26

.000

0

0

3

4

8

1

2

0

0

5.0

5

Pepperman, Emily

5

0

0

0

.000

0

1

1

0

30

0

0

0

0

1.0

11

Xie, Eva

5

21

11

51

.196

0

0

0

0

1

0

6

1

1

24.0

Totals

5

80

33

215

.219

79

3

9

5

97

3

20

3

1

96.0

TOTAL TEAM BLOCKS: 13.0
TEAM ATTACK BY SET
Set
K
E
TA
Pct
Sideout
Pct

1

20

10

57

.175

20-28

71%

2

15

2

38

.342

17-25

68%

3

17

10

55

.127

17-29

58%

4

19

6

37

.351

14-22

63%

5

9

5

28

.143

5-13

38%

73-117

62%

Site: Springfield, Mo. (Hammons Student Ctr.)
Date: 08-31-12 Attend: 67 Time: 2:14
Referees: Steven Thomas, James Werner


| | | | | | | |
| --- | --- | --- | --- | --- | --- | --- |
| | 1 | 2 | 3 | 4 | 5 | Total |
| Tie scores | 13 | 7 | 14 | 10 | 3 | 47 |
| Lead changes | 4 | 3 | 9 | 6 | 2 | 24 |
Sections
Sports
Topics
Adisa Hodzic, APSU, APSU Athletics, APSU Sports, APSU Volleyball, APSU Women's Volleyball, Austin Peay State University, Dayton, Edinia Begic, Eva Xie, Hammons Center, Jada Stotts, Lady Govs, Lauren Henderson, Nikki doyle, Oral Roberts, Springfield MO, Taylor Mott, Trojans, UALR, University Plaza Invitational