Clarksville, TN – On September 15th, 2012 around 1:00pm, Clarksville Police were called to investigate a robbery which occurred early in the morning, around 5:00am at 480 Ringgold Road.
According to a 43 year old male victim and a witness, the victim was at 480 Ringgold Road with his friend, Keno Holmes, when they got into a verbal altercation.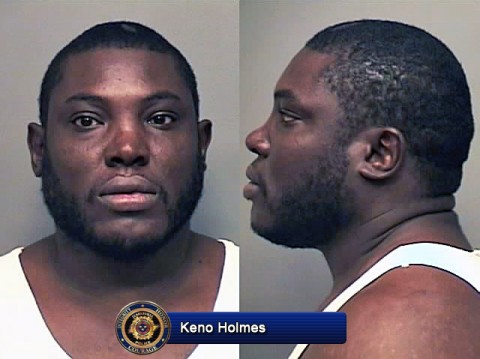 As the victim was leaving the house, Keno Holmes, snuck up and hit him on the back of the head and kicked him when he fell to the ground. Holmes then took his debit card, cell phone, and car keys and left in the victim's 2006 Ford Escape.

The victim went to his home in Oak Grove, KY to have his injuries treated and call Holmes to try and convince him to return the stolen property. He was unsuccessful and Police were called.

Police believing Holmes would return to the Ringgold Drive address, set up surveillance. They spotted the stolen vehicle which was being driven by Holmes.

Officers approached Holmes and found the victim's stolen property in his possession.

On September 16th, 2012, around 5:30am, Keno Teon Holmes was booked into Montgomery County Jail.

Holmes is on currently on probation for a drug-related charge out of another county.

Detective Fontella Jones is the lead investigator.
Keno Holmes
Name: Keno Teon Holmes (B/M)
DOB: 1/2/77
Given Address: Homeless
Arresting Officer: Fontella Jones
Charged With: Robbery and Theft of Property
Booked Into: Montgomery County Jail
Bond: $10,000
Sections
News
Topics
Bond, Clarksville Police Department, Clarksville TN, CPD, Fontella Jones, Ford Escape, Homeless, Keno Teon Holmes, Montgomery County jail, Oak Grove KY, Ringgold Road, robbery, Stolen Vehicle, Theft of Property