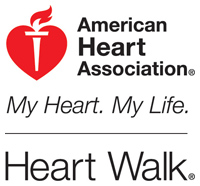 Nashville, TN – Today's American Heart Association Nashville Heart Walk broke the all-time record for attendance, with a crowd of 13,000 braving the cooler temperatures in early morning festivities and welcoming the sunshine as it broke through just before the Walk kicked off at 10:00am.
The event at Vanderbilt University's sports field featured early morning festivities, live music by Vanderbilt staff, a CPR flash mob organized by UPS, Metro Police Academy calisthenics drills, and games of all sorts for young and old – all to celebrate the importance of healthy living and to raise awareness of heart disease and stroke, the No. 1 and 4 killers of Americans.
Survivors from age 1 on up were welcomed to the event with a special Red Cap and a breakfast in their honor. Comedic actress and Jenny Craig Brand Ambassador Nicole Sullivan mingled with the crowd. Even Shrek and Puss 'n' Boots showed up, courtesy of Gaylord, as well as Monroe Carell Jr. Children's Hospital mascot Champ.
Hundreds of teams  helped raise more than $1.725 million dollars. There is still time to donate to the Heart Walk at www.nashvilleheartwalk.org by October 31st to help the American Heart Association reach its goal of $1.75 million. Funds raised go to research, public health and community education in Middle Tennessee and beyond.
Nashville Heart Walk was sponsored nationally by Subway Restaurants and Jenny Craig, and locally by Vanderbilt Heart.
Photo Gallery