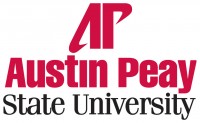 Clarksville, TN – For the second year in a row, Austin Peay State University leads Tennessee's four-year institutions in increasing the retention and graduation successes of its students, according to a report released today during the fall quarterly meeting of the Tennessee Higher Education Commission.
In its report, the THEC recommends that APSU receive a 12.9 percent increase in funding for 2013-14, based on the second year of the funding formula.
"At APSU, we have made student success the centerpiece of everything that we do," Provost Dr. Tristan Denley said. "The initiatives that this focus has brought about are continuing to help more and more students successfully complete their degrees."
This gain is the largest of any other four-year public university in the state, with the University of Tennessee in Knoxville next in line slated to receive a 9.3 percent increase. Plus, the funding recommendation is nearly twice the increase APSU received in 2012-13 with 6.9 percent.
"We focus relentlessly on how we can help our students learn more and how we can help them graduate," APSU President Tim Hall said. "We don't just want to give them a few college credits; we want to give them a college degree."
The proposed increase is contingent on approval of state appropriations from the Tennessee General Assembly in 2013.
APSU, like other public institutions in Tennessee, is being assessed by retention and graduation performance. The Complete College Tennessee Act, adopted in 2010, implements an outcomes-based funding formula, in which productivity rather than enrollment controls the funding distribution.
The funding increase reflects APSU's progression of graduating more students than ever. Since 2009, degree completions have risen steadily, increasing more than 20 percent. At the May 2012 commencement, the University awarded degrees to 1,075 students – the largest class in APSU history.
This is due to the University's efforts to offer students more opportunities to finish their degrees faster, such as the Winter Term launched in 2011, curricular redesign to help more students succeed in their classes and technology innovations such as Degree Compass to provide students with the best information to move toward graduation.
Students who are interested in attending APSU are encouraged to call 931.221.7661 or toll free at 800.844.APSU, visit the website at www.apsu.edu/admissions or email .