Written by Colby Wilson
APSU Sports Information

Clarksville, TN – As he ran back down the floor after hitting the jumper against Central Missouri, Anthony Campbell looked into the stands and announced simply, "I'm back."
The forward from Illinois has endured much in his time as an Austin Peay athlete. A heart-wrenching OVC Championship loss as a freshman. A wrecked knee his junior year. And then, another knee injury just 10 games into what would be his redshirt junior season.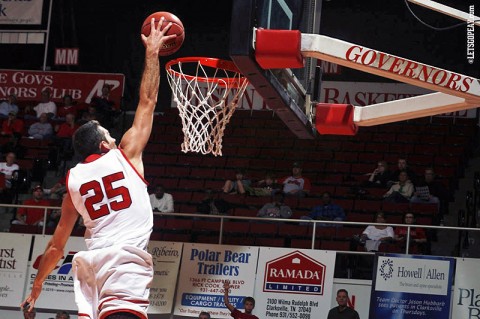 "I had to make a decision (in August 2011)," Campbell said. "I knew there were risks, that I could tear my meniscus and risk missing more time. I decided to keep playing; I wanted to be a part of the team."
For the 22-year old Edwardsville, IL, native, basketball always came easy. After re-injuring the knee 10 games into his return, concerns existed about how much more stress his knees could take.
"I knew I was going to try and make it back," Campbell explained. "What I didn't know was how much I could do. I took it one day at a time, doing the rehab that I was supposed to do. Always, in the back of my mind I knew that if I couldn't get back to what I was before, I wouldn't try to do it. I didn't want to let the fans, my teammates, coaches and myself down."
Already with more than 700 points and 95 three-pointers to his credit after just two seasons on the court, and only one as a full-time starter, Campbell seemed a logical bet to follow in the line of great Austin Peay long-range shooters such as Joe Sibbitt and Todd Babington, who rank first and second all-time in three-point shooting.
Two knee surgeries have robbed Campbell of some spring in his step, but his canniness can't be denied. He's developed a solid low-post game, putting to use the 20 pounds of muscle (up to 215) he's added to his 6-7 frame since arriving on campus to work in the post, using his agility to get by bulkier defenders. He's also done good work in the classroom, graduating in the spring with a degree in international business management and is now pursuing a Master's in management.
At 3-3 early in the 2012-13 campaign, the Govs have relied heavily on Campbell's offense, especially with a young roster – three freshmen get heavy minutes and senior point guard Jerome Clyburn has been limited by injury – sorely in need of an offensive catalyst.
Against Berea November 28th, Campbell reached a milestone that was five years in the making. When he hit the second of two free-throws at 17:01 in the second half, he became Austin Peay's 32nd member of the 1,000-point club.
"I'm really happy for him," said Govs head coach Dave Loos. "That's quite a milestone, especially the way he's done it and what he's had to fight through to get to that point."
More important to Campbell, he's become a better leader. As a fifth-year senior who has been off the court for much of the last two years, Campbell has worked hard to develop a rapport with teammates, both new and old.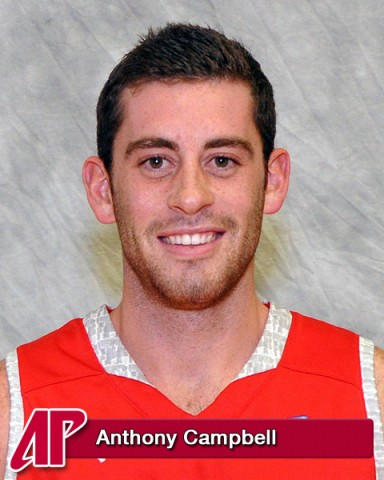 "As a freshman, I learned a lot from Kyle Duncan," he said. "He's one of the best leaders I've ever been around. Seeing these last two years from the sideline point of view has allowed me to learn a lot about basketball, as the game, and the tendencies of the guys.
"It's a lot different now. There are days when it's easier than others, but the biggest thing has been getting to know these guys on a personal level. Jerome (Clyburn), Will (Triggs) and myself, the three of us are trying to take the leadership roles early on. We're going to take some lumps, but I think we'll be good as the season goes on."
Playing with Triggs, who hails from Edwardsville High School like Campbell and was a sophomore when Campbell was a senior, has made the transition back to the court easier. The duo have developed a rapport through years of sharing the court together.
"It's very exciting to play with Will," he said. "He's a great teammate. I feel like we have a good chemistry, where I know where he's going to go and he knows where I'm going to go on certain plays."
With the respect of his teammates, Campbell is back to getting respect from his foes as well. Of the aforementioned jump shot against Central Missouri, Campbell said, "Those moments are important to me. I feel like people are respecting my abilities again."