Austin Peay Governors vs. Illinois State
December 22nd, 2012 | 2:05pm
Redbird Arena | Normal, IL

Normal, IL – The Illinois State Redbirds has proven to be one of the best kept secrets of the season's early going.
Creighton was the overwhelming choice to win the Missouri Valley Conference while Wichita State, well, is Wichita State and gained plenty of publicity with its strong start.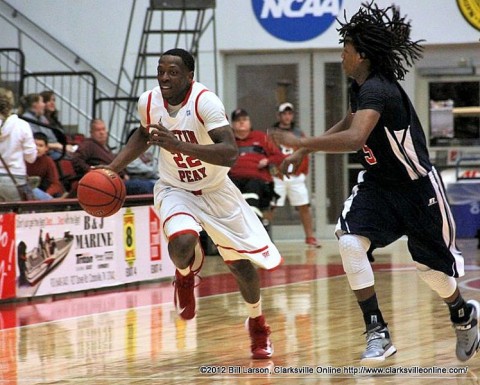 However, it was Illinois State the team predicted to finish second to Creighton in preseason polls, but few knew how the coaching from Tim Jankovich to Dan Muller would affect the Redbirds. But the former Redbird star who had been a top coaching lieutenant at Vanderbilt to Kevin Stallings since 2001 has his alma mater playing consistently strong basketball.
The Redbirds stand at 8-3, coming off an impressive Wednesday night win at Dayton. Two of their three losses have come to Big 10 foe Northwestern and Louisville, both three-point decisions. That's the Illinois State team APSU will be facing 2:05pm, Saturday, in Redbird Arena.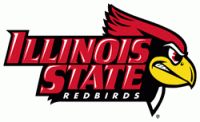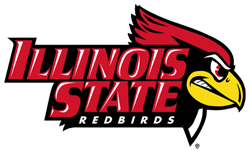 Jackie Carmichael, the 6-9, 240-pound forward, leads Illinois, averaging 18.3 ppg and 7.7 rpg. He is coming off a double-double against Dayton, a performance that saw him net 25 points. In addition, guard Tyler Brown is averaging 17.4 ppg for the high-powered offense averaging 80.8 ppg.
Austin Peay, meanwhile, will try to put behind one of the most difficult defeats in recent memory-certainly at home. Leading by 12 points with 3:09 remaining, APSU failed to score the game's remainder as Lipscomb rallied for a 87-84 victory as the Bisons scored the game's final 15 points.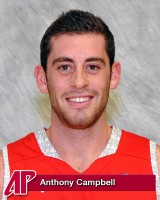 Lost in the game was a career-high 25-point performance by Govs' forward Anthony Campbell while forward Chris Freeman came off the bench to add 15 points.
In addition four other Govs scored in double figures. They will need that type of balanced offense against Illinois State.
This will be the first of five straight Govs' games away from Dave Aaron Arena.
Fastbreak
After playing Lipscomb at home, Tuesday, the Governors now will play their next five games away from Dave Aaron Arena.
Austin Peay enters the game seeking to snap a three-game losing streak after losing 87-84, Tuesday at home to Lipscomb.
Illinois State was picked to finish second behind heavy favorite Creighton in the Missouri Valley Presason Poll.
Forward Jackie Carmichael was named preseason All-MVC. He is averaging 18.3 ppg and 7.7 rpg after tallying 25 points and 12 rebounds in a road win at Dayton.
First-year head coach Dan Muller replaced Tim Jankovich after the 2011-12 season. The former Rebird standout spent from 2001-12 as a Vanderbilt assistant.
The Redbirds feature the highest-scoring offense in the MVC, averaging a league best 80.8 points per game.
Entering the week, Iillinois State's field goal percentage (50.7 percent) ranked eighth in the nation while their average assist total (17.9) was seventh.
Illinois State's success this season has been based on 70 points. If the Redbirds reach 70, they win. If not, they lose. ISU is 8-0 when scoring 70 or more and 0-3 when scoring less.
What You Should Know
The Series: This is the first meeting between Austin Peay, a member of the Ohio Valley Conference, and Illinois State, a member of the Missouri Valley Conference. This will be APSU's 58th meeting against current MVC programs. It also will the first of three games in the state of Illinois for the Governors this season.
Deeper Meanings
What A Win Would Mean: The Govs would move to two games under the .500 mark at 5-7…they would go to 2-4 in December…the Govs would gain their first road victory against four losses…they would go to 1-0 against Illinois State…it would be head coach Dave Loos' first win against new Illinois State coach Dan Muller…it would be APSU's 19th win against current Missouri Valley Conference members…it would be Loos' 450th career victory.
What A Loss Would Mean: The Govs would drop four games below the .500 mark at 4-8…they could enter the Christmas break amidst a four-game losing streak…it would make the Govs 0-5 on the road this season…the Govs would fall to 1-5 in December… it would be APSU's second straight loss to a MVC conference member…it would be their 40th all-time loss against current MVC members…it would be Dave Loos' 318th APSU loss and 371st all-time.
From Walk On To Starter
With senior point guard Jerome Clyburn out indefinitely with a hamstring injury and APSU's other point guards struggling with turnovers, APSU's coaching staff turned to a player against Lipscomb who joined the Governors practice sessions a little more than a week earlier.
Jeremy Purvis, who played at Clarksville's Northeast High School before playing junior college basketball for two seasons at Jackson State, got the starting nod against Lipscomb. He ended up playing 32 minutes and dishing out five assists. More importantly, he had just one turnover against the Bisons.
Career-High
Anthony Campbell scored a career-best 25 points against Lipscomb, going 9 of 17 from the floor. His previous high was 24 points, once against Morehead State in 2009-10 and the other time against Charleston Southern in 2010-11.
Magic Number 11
A torn anterior cruciate ligament in his left knee stopped Anthony Campbell's respectice last two seasons after only 10 games. He celebrated game No. 11 of 2012-13, Tuesday, with a career-best 25-point effort.
Double-Figure Five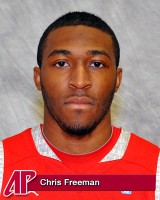 Nearly overlooked in the Govs loss against Lipscomb, Wednesday, the Govs placed five players in double figures for a second time. Anthony Campbell scored a career best 25 points while sophomore forward Chris Freeman added 15, also a career high. In addition, Travis Betran added 14, foul plagued Chris Horton 12 and Will Triggs 11.
The Govs also placed five players in double figures against Berea earlier this season.
Raising His Game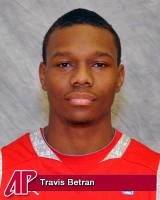 Although he was "held" to 14 points against Lipscomb, junior guard Travis Betran is averaging 19.1 ppg, shooting 52 percent from the floor and 53 percent from three-point range over the last eight games. The Harlem, NY, native saw his streak of 20-point outings stopped at two straight in the loss to Lipscomb.
However, he did keep alive his streak of at least three three pointers, which he extended to eight games by shooting 3-of-7 from beyond the arc.
Block Party
With his six blocked shots, Tuesday, in 14 foul-plagued minutes, forward/center Chris Horton is now ranked 11th nationally in blocks at 3.3 bpg.
Media Coverage
Radio: Governors Radio Network
Play-by-Play: David Loos
Analyst: Brad Kirtley
Statistics: Patrick Miller
WVRY 105.1-FM, www.letsgopeay.com