Written by Sgt. Duncan Brennan
101st Combat Aviation Brigade
Bagram Airfield, Afghanistan –A soldier profile on Sgt. Lydia Johnston, 2nd Squadron, 17th Cavalry Regiment medic serving at Jalalabad Airfield, Afghanistan.
U.S. Army Sgt. Lydia Johnston, a medic with Headquarters and Headquarters Troop, 2nd Squadron, 17th Cavalry Regiment, knows what it is to give care under fire. The difference is that she was doing it before she even came into the Army.
Johnston, a native of Greenville, CA, was an emergency medical technician prior to her joining the Army. Getting EMT training was part of getting a degree.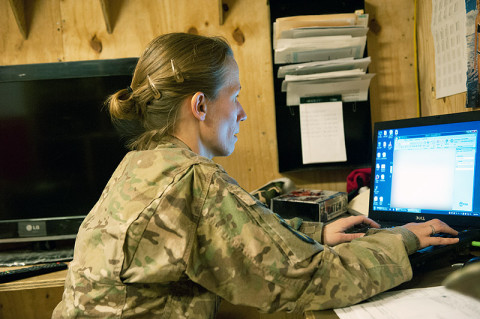 "I was studying recreational leadership," said Johnston. "I was learning to be a leader and a motivator."
Being the mother of two children, money was tight and she used the EMT training to get a job on an ambulance.
"My first job was on a hospital based ambulance," said Johnston. "My second job as an EMT was in Contra Costa County, Calif. The crime rate in Contra Costa was so high that the EMTs sometimes came under fire from the gangs."
Being shot at on the job was one thing, but raising two children in California will strain most budgets. Johnston found herself spending more time away from her children and not having enough to show for it. With that in mind, she decided to join the army.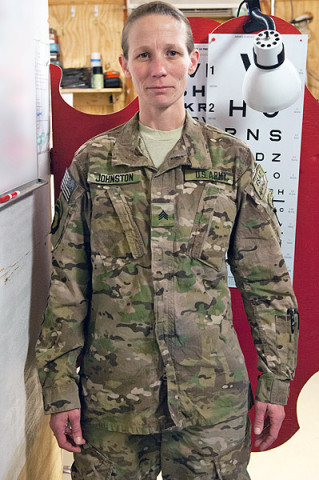 "I was working three jobs, and I was on welfare. I never got to see my kids," said Johnston. "I chose the Army because it was the only branch that would guarantee me a job as a medic."
Now that Johnston is in the Army, life is very different for her. The days of treating gunshot wounds to gang members are gone. Treating her fellow soldiers brings her a tremendous amount of satisfaction.
"I know I'm making a difference," said Johnston. "I love it when a patient walks out feeling like he or she has been taken care of."
Being a medic is not solely about taking care of the sick or injured. The Army requires all soldiers to be leaders.
"I've known Johnston for about two years," said Staff Sgt. Joseph Gregory, HHT, 2-17 CAV medical section noncommissioned officer in charge. "She is one of the most clinically competent medics I've worked with, and it's a relief to have another NCO in the office who can think on their own."
Gregory comes to 2-17 CAV from having been a combat medic in the world of the infantry, and brings a different perspective. It is the differences that allow Gregory to see where Johnston can maximize her potential.
"She is headstrong," said Gregory. "I believe NCOs have room to grow, and Johnston is headed in the right direction."