Middle Tennessee invited to "go red"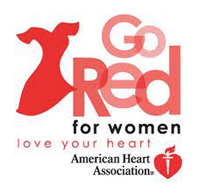 Nashville, TN – National Wear Red Day is coming – and the American Heart Association is looking for Middle Tennessee organizations who want to paint the town red.
Friday, February 1st, 2013, will mark the 10th Annual National Wear Red Day and the 10th year of the American Heart Association's Go Red For Women® movement, working to save women's lives from their No. 1 killer, heart disease.
We've made progress in women's heart health over 10 years:
34% fewer women are dying of heart disease each year. Estimated totals over 10 years: more than 627,000 women's lives saved, now at 330 women per day.
23% more women are aware that heart disease is the No. 1 killer.
We've driven an increase in publishing of gender-specific results in research.
We've established differences in symptoms and responses to medications.
We've created women-specific guidelines for prevention and treatment.
Go Red For Women has contributed more than $44 million to women-specific research, treatment and education.
But much remains to be done
Heart disease affects one in three women nationally and here in Tennessee, killing approximately one woman every minute.
An estimated 43 million women in the U.S. are affected by heart disease.
Ninety percent of women have one or more risk factors for developing heart disease.
Heart disease strikes more women than men, and is more deadly than all forms of cancer combined.
On National Wear Red Day, buildings, streets, companies, homes and individuals will be dressed in red across the country to mark women's fight against heart disease. Landmarks such as Niagara Falls and the Epcot Ball at Epcot Center will be lit in red.

It will be the biggest National Wear Red Day ever.

To participate, you can wear red, turn your building or office red, spread heart-healthy messaging to your friends or colleagues or post a Go Red cover image on Facebook (available at facebook.com/AHAGreaterNashville).

If your organization is interested in going red for National Wear Red Day, contact the American Heart Association in Nashville. Also check out goredforwomen.org.

Local "red" landmarks confirmed to date include the State Capitol, Frist Center for the Visual Arts, Nashville Electric Service, Adventure Science Center and the Hard Rock Café. Also participating so far: Williamson County, the City of Franklin, TPAC, Nashville Convention and Visitors Bureau and the Tennessee General Assembly.

The complete "RED" list with details will be released at a later date.

Go Red For Women is sponsored nationally by Macy's and Merck, and locally by Saint Thomas Heart.



Sections
News
Topics
American Heart Association, cancer, Go Red For Women, Heart Disease, Middle Tennessee, Nashville TN, National Wear Red Day, Saint Thomas Heart, Tennessee General Assembly