Clarksville, TN – New art exhibits have sprouted from the walls of the Customs House Museum during this mild weathered January. The subject matters run the gamut of birds and bunnies to abstracts to landscapes.
The museum recently received wonderful additions to its permanent collection from renowned artists Hunt Slonem and Margaret Evangeline. Included in the exhibit New to the Collection is Slonem's large-scale painting of rabbits, titled Hutch, and a representation from Evangeline's famous "bullet" series, as well as, dollhouse photographs by Eric Hansen.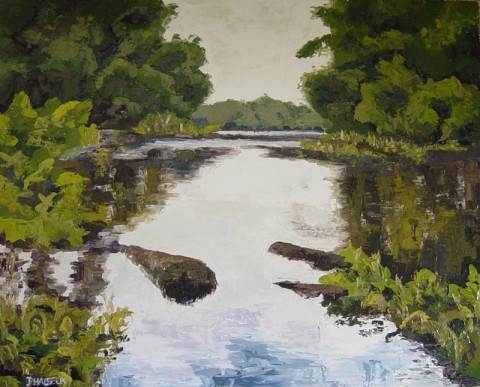 All artists' work can be found in major museum and corporate collections.  Three of Slonem's pieces can currently be seen in the museum lobby. New to the Collection opens on January 29th,
The Crouch Gallery houses the meticulous, abstract works by Miranda Herrick. Herrick recycles labels and designs to form images of kaleidoscope-like patterns. Included in the exhibit is her series of drawings 'Works and Days'. The series was executed in 2007.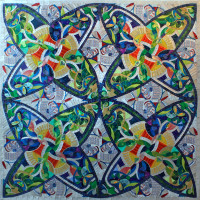 A drawing was made on each day of the year. Although a few of the designs create organically shaped images, most are more structured geometric patterns. These drawings began with penciled grid lines and grew out with repetitive, pen-and-ink line work done freehand. The process is meditative in nature.
Miranda says "The purpose of making a drawing on every day of a year was two-fold. Firstly, it demanded structure and discipline for the practice of meditation in action. Secondly, it was a way to interact with the audience's personal history. Seeing the dates on the finished pieces calls to mind any personal significance of that day for the viewer. I was actively doing something creative on each day and effectively commemorating the birthday of almost anyone."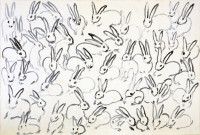 Patty Halbeck is an artist with close ties to Clarksville. She is a music professor at Austin Peay University and she creates beautiful landscapes inspired by the Montgomery County landscape. Her exhibit Forest and Field fills the museum's Planters Bank Peg Harvill Gallery with geraniums, old barns, and even cows.
Halbeck's paintings are at once, both full of movement and serene. A member of the Chestnut Group and Women Painters of the Southeast, Patty says her work is inspired by the lines and patterns of calligraphy and printmaking.
All three exhibits will be on view through February.
About the Customs House Museum
Located in the heart of historic downtown Clarksville, Tennessee, the Customs House Museum and Cultural Center is the State's second largest general museum. With over 35,000 square feet of the region's best hands-on activities and special events…people of all ages agree – the Customs House Museum is well worth the stop!
The Explorer's Gallery is packed with fun, learning and fantasy in Aunt Alice's Attic, McGregor's Market and kitchen, and of course – the Bubble Cave! Finally, get "all aboard" to see our fantastic model trains. Our volunteer engineers "ride the rails" every Sunday afternoon from 1:00pm to 4:00pm.
Regular museum hours are 10:00am to 5:00pm Tuesday through Saturday, and 1:00pm to 5:00pm on Sundays. Adult admission is $7.00, Sr. Citizens and College ID $5.00, Ages 6 to 18 $3.00, and under six years and Museum members are free.
The Customs House Museum is located at 200 South Second Street. For more information, call 931.648.5780 or visit their website at www.customshousemuseum.org