Clarksville, TN – On January 26th, 2013 around 7:15pm, officers responded to a residential burglary at 1121 Riverwood Place. The 48 year old female victim called and stated that someone had kicked in her front door damaging the door frame.
It appears someone entered through her front door and took a cream colored jewelry box and six gold rings valued at approximately $2,000. There were witnesses who saw a man exiting the apartment and provided officers a detailed description of the suspect.
As Officer Felix Almonte arrived in the area, he spotted a red Pontiac G6 leaving the area without its headlights on. He stopped the vehicle and saw a male laying down in the back seat matching the suspect's description. The man told officers his name was James Smith.
After he sat up, officers saw a cream colored jewelry box in the back seat. There was also an open bottle of liquor on the rear seat floor. The man was detained and an ID card was found identifying him as Ricky Borders.
It was discovered during the course of investigation, the burglary victim was Borders' ex-girlfriend, there was an active Condition of Release as a result of a domestic assault, and Borders was prohibited from possessing or consuming alcohol or committing any offense against the victim.
Also, the six stolen rings were found inside of the jewelry box and were identified as belonging to the victim.
Ricky Borders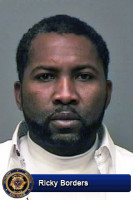 Name: Ricky Lydell Borders
Race: B
Gender: M
DOB: 1/20/68
Given Address: 253 White Oak Road, Clarksville, TN
Arresting Officer: John Platt
Charged With: Aggravated Burglary, Criminal Impersonation, Contempt x2
Booked Into: Montgomery County Jail
Bond: $12,250.