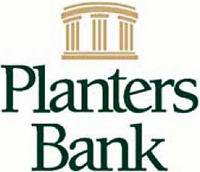 Clarksville, TN – Representatives from Planters Bank recently presented a check to the Northeast Middle School robotics teams.
The Northeast Electric Eagles Gold First LEGO League (FLL) robotics team recently won the First Place Champion's Award and the Blue FLL team won the Robotic Programming Award at the West Tennessee State Championship held at the University of Memphis on December 8th, 2012.
FLL teams from across West Tennessee competed in the areas of Core Values/Teamwork, Presentation/Project and Robot Design and Game.
The theme for this year's FLL challenge was Senior Solutions, which challenged teams to improve the quality of life for seniors to help them remain independent, engaged, and active.
The Electric Eagles competed with 26 other FLL teams to win an invitation to the North American FLL Open Invitational Tournament May 17th-19th, 2013 at LEGOLand California.