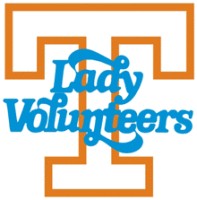 Knoxville, TN – The University of Tennessee plans to honor legendary women's basketball player Candace Parker by retiring her jersey during a home game next season, the Tennessee Athletics Department announced Thursday.
Parker, a two-time All-American, will become the sixth Lady Vol player to be permanently honored in the Thompson-Boling Arena rafters. Her No. 3 banner will join those for Holly Warlick (No. 22), Chamique Holdsclaw (No. 23), Tamika Catchings (No. 24), Bridgette Gordon (No. 30) and Daedra Charles (No. 32). Lady Vol Head Coach Emeritus Pat Summitt also had a banner raised in her honor this season on January 28th prior to the game with Notre Dame.
A native of Naperville, IL, Parker led Tennessee to consecutive national championships in 2007 and 2008 and ranks third on the UT career list with 2,137 points scored in only three seasons (2005-06 through 2007-08).
She averaged 19.4 points and 8.8 rebounds per game during her time at Rocky Top and is the Tennessee career and single-season record holder in free throws made and career record holder for blocked shots.
Parker was a three-time All-American and All-SEC performer (2006-08) who also won SEC Player of the Year honors in 2007 and SEC Female Athlete of the Year in 2008.
She also won the following national awards: John R. Wooden Player of the Year (2007, 2008), Naismith Player of the Year (2008), AP Player of the Year (2008), Honda-Broderick Cup Athlete of the Year (2008), State Farm Wade Trophy (2007), and the USA Basketball Writers Player of the Year (2007, 2008).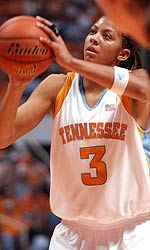 She was also the NCAA Tournament Most Outstanding Player in the Lady Vols' back-to-back national title seasons of 2007 and 2008.
UT's season scoring and rebounding leader during her three playing seasons at Rocky Top, Parker has gone on to a successful career in the WNBA and with USA Basketball.
"It's a very well-deserved honor for Candace," UT Head Coach Holly Warlick said. "She was highly-regarded coming out of high school and helped us carry on our tradition by leading us to two NCAA Championships during her time here. She ended her career as one of the most-decorated players in school history
"She's been a great ambassador for the Lady Vol basketball program and for women's basketball as a whole as both a WNBA player and member of the U.S. Olympic Team. We're pleased to see Candace recognized in this way."
In her 2007-08 senior season, Parker averaged 21.3 points and 8.8 rebounds per game as Tennessee won the NCAA title in Tampa. In addition to being named a consensus All-American and player of the year, the SEC Female Athlete of the Year and winner of the Honda Broderick Cup, she was the No. 1 overall pick in the WNBA Draft by the Los Angeles Sparks. She went on to win both the league's MVP and Rookie of the Year accolades that season, becoming the first to accomplish that feat.
Before beginning her pro career, however, Parker had other pressing business. She played in the 2008 Olympic Games, helping the USA bring home a gold medal. She was a key player in 2012, as well, as the USA again made the run to gold, enjoying that victory with another former Lady Vol and retired jersey honoree in Catchings.
Parker continues to star in the WNBA for the Sparks and is playing overseas in Russia this winter.