Clarksville, TN – The weekly Clarksville Parks and Recreation Department Recreation Report provides Clarksvillians with a glimpse at the activities and events that are available from the Parks and Recreation Department for them to enjoy together as a family.
This weeks highlights include: Pools Open, Summer Youth Program, Doggie Palooza, Youth Co-Ed Flag Football, and Mayor's Summer Night Lights.

Pools are Open!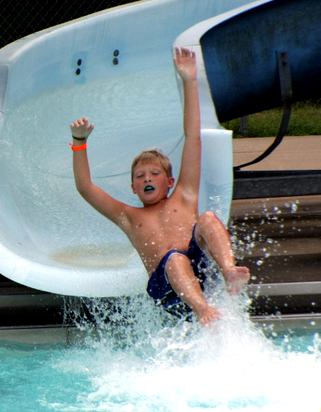 City pools are open for the summer season! Do you have your pool pass? We also offer daily admission prices of $5.00 per person or $3.00 per person after 3:00pm, at all five locations:
Beachaven Pool
Bel-Aire Pool
New Providence Pool
Swan Lake Pool
Smith Pool
Summer Youth Program
The 2013 Summer Youth Program will begin June 3rd with the opening of 15 program sites, including three sites just for teens, and will end July 12th. This year's theme is "It's a Jungle Out There!"
Summer Youth Program is a six-week day camp-type program offered each summer to youths, ages 6-16. Gyms at various locations are staffed with directors and assistants, who will help with activities and provide free, instructional classes such as gymnastics and karate. Registration for Community Center sites begins May 29th at 9:00am.
Registration for school sites will begin May 31st at 9:00am.
Doggie Palooza

Are you excited for the upcoming 6th Annual Doggie Palooza? This free event will take place June 1st from 1:00pm to 4:00pm, at the Heritage Park Bark Park. Bring your 4-legged friends for a day full of demonstrations, contests, prizes and more! For more information contact Paula Harrington at 931.645.7476.
Youth Co-Ed Flag Football
Do your kids want to try out Flag Football this summer?  We are excited to introduce our new Youth Co-Ed Flag Football League by hosting the first-ever Youth Flag Football Clinics this summer. Two sessions will be held for boys and girls ages 5 to 17 at Northeast High School from 8:00am to noon, the first on June 15th and the second to be held July 13rd.
These clinics, taught by Coach Isaac Shelby and his Northeast High School football staff, will introduce flag football with an emphasis on fundamentals. Participants will learn rules, develop skills and make new friends!
Each clinic costs $25.00 and includes a shirt, lunch and water bottle. Each clinic participant is also eligible to receive $5.00 off of registration for the upcoming Youth Flag Football League set to begin later this summer.
Registration for the Youth Flag Football league will take place June 17th through July 19th. Cost is $65.00 per child and includes shirt, medal, flag belt & flags.
Pre-registration can be completed online at recpro.cityofclarksville.com or at the Clarksville Parks and Recreation Main Office.
Mayor's Summer Night Lights is back!
Mayor's Summer Night Lights kicks off June 17th at the Kleeman Community Center! Summer Night Lights offers expanded programming for youth and families. The program's mission is to provide purposeful, positive and popular activities to reduce and prevent criminal activities.
Families and at-risk youth can find their purpose in life by giving them an active role in making their communities safe through this fun-filled program. Dinner will be served each night, DJ, local music artists and motivational speakers weekly.
This program is free, every Monday and Wednesday from 6:00pm to 9:30pm through August 7th.