Jekyll Island, GA – Once almost exclusively a staple of Southern cuisine, grits have made their way from the family breakfast table to the lunch and dinner menus of some of the nation's finest restaurants.
"For generations, grits have provided daily nourishment through good times and bad -but almost exclusively served in the deep South," said Linda Carman, baking expert for Martha White®, the makers of Jim Dandy® Grits. "Now, thanks in large part to young creative lowcountry chefs who appreciate their culinary roots, grits have become trendy across the country and served for breakfast, lunch and dinner."

One of the unique characteristics of grits is the variety of ways it can be paired with other foods. Shrimp and grits is one of the most popular grits combinations. All over the country chefs have created an amazing variety of shrimp and grits recipes, but one of the simple classics is a stir-fry of shrimp and peppers served over creamy Cheddar cheese grits.
When you go to a brunch down South, some version of garlic cheese grits is almost always on the menu. Tex-Mex Cheese and Green Chili Grits is a variation on that theme that is the perfect side dish for a brunch, a cook-out or a family dinner. And, for an elegant yet easy dessert, Grits Cream served with fresh fruit or berries is amazingly delicious.
The popularity of shrimp and grits will never be more evident than on the weekend in September when thousands of shrimp and grits lovers from across the country will journey to Jekyll Island, GA to celebrate the savory dish. Special cooking demonstrations, and corn hole toss competitions will be featured at the festival – along with amateur and professional cooking contests, shrimp boat tours and a shrimp eating contest.
Sautéed Shrimp and Cheese Grits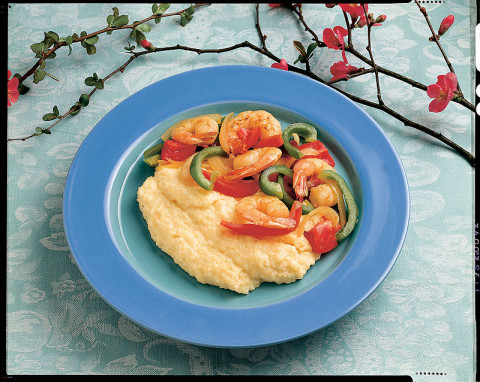 Grits:
1 1/2 cup chicken broth
1 1/2 cup milk
3/4 cup of Jim Dandy® Quick Grits
1/4 teaspoon salt
1 cup shredded Cheddar cheese
Shrimp:
1 cup diced bacon
1 pound medium shrimp, peeled and deveined
1/2 cup thinly sliced green bell pepper strips
1/2 cup thinly sliced red bell pepper strips
2 teaspoons hot pepper sauce, or to taste
Sliced green onion and shredded Cheddar cheese for garnish
1. To prepare grits, bring chicken broth and milk to a boil in large saucepan. Stir in grits and salt; return to boil. Cover and reduce heat to low. Cook 5 minutes until thickened; stirring occasionally. Stir in Cheddar cheese. Keep warm.
2. To prepare shrimp, cook bacon in skillet until crisp. Remove from skillet and drain on paper towels; set aside. Drain all but 2 tablespoons drippings from skillet. Add shrimp, peppers and onion; cook until vegetables are tender and shrimp turn pink, about 3 to 5 minutes. Season with hot pepper sauce. Stir in bacon. Serve shrimp mixture over warm cheese grits. Garnish with chopped green onions and shredded Cheddar cheese.
6 servings
Tex-Mex Cheese and Green Chile Grits
5 1/3 cups water
1 1/3 cups of Jim Dandy® Quick Grits
1/2 teaspoon salt
2 large cloves garlic, minced
1/4 cup butter or margarine
2 eggs, beaten
1/4 cup milk
1 (4 1/2 – oz.) can chopped green chilies, undrained
1 jalapeño pepper, finely chopped
1 small onion, chopped
2 cups shredded sharp Cheddar cheese, divided
1 cup crushed tortilla chips
Salsa, optional
1. Heat oven to 350°F. Grease 9-inch baking dish. In large saucepan, bring water to boil, gradually stir in grits, salt and garlic. Reduce heat; cover and cook 5 to 7 minutes or until thickened, stirring occasionally. Stir in butter.
2. In small bowl, combine eggs and milk. Stir into grits. In small bowl combine chilies, jalapeño pepper and onion.
3. Spoon half grits mixture into greased baking dish. Top with 1 1/2 cups of cheese. Spoon green chili mixture evenly over cheese. Top with remaining grits. Sprinkle with remaining 1/2 cup cheese and tortilla chips. Bake at 350°F. for 45 to 50 minutes or until heated through. Serve with salsa, if desired.
Note: Place foil on rack under baking dish in case casserole bubbles over.
6 to 8 servings
Grits Cream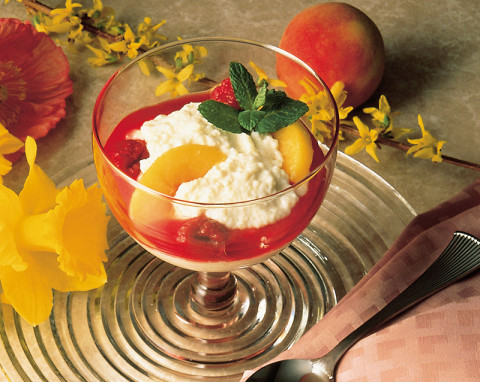 1/2 cup Jim Dandy® Quick Grits
3 tablespoons sugar
1/4 teaspoon salt
2 1/2 cups half and half
1 teaspoon vanilla
Fresh fruit, such as peaches and raspberries, if desired
1. In medium saucepan, combine grits, sugar, salt and half-and-half; mix well. Bring to boil over medium heat. Cook about 8 minutes, stirring constantly.
2. Reduce heat; cook about 5 minutes or until thickened, stirring constantly. Stir in vanilla. Serve warm with fresh fruit, if desired.
6 servings