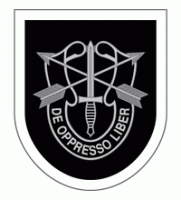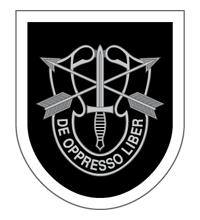 Fort Campbell, KY – Soldiers, families and friends from 3rd Battalion, 5th Special Forces Group (Airborne), also known as The Legion, gathered together on the morning of May 23rd, to pay tribute to a former member of the unit.
The tribute was in the form of the newly dedicated battalion operations complex, now named Ashley Hall, for 3rd Bn., 5th SFG (A), in honor of Sgt. 1st Class Eugene Ashley, a Medal of Honor recipient who paid the ultimate sacrifice in order to save the lives of others. Ashley was represented at the ceremony by his son, retired Army Sgt. 1st Class Darrin Ashley, his daughter-in-law, granddaughter and nephew.
Ashley served his country in Vietnam as a Special Forces Intelligence Sergeant. He was part of Company C, 5th Special Forces Group, 1st Special Forces which later became the 3rd Bn., 5th SFG (A).
Over a two-day period starting on February 6th, 1968, Ashley led and coordinated the defense of a small Special Forces camp, located in the northwestern corner of South Vietnam, from a North Vietnamese assault consisting of infantry and tanks.
On February 7th, after staving off numerous attacks, receiving multiple wounds from heavy machine gun fire and leading his fifth counter attack that would successfully provide an escape route for the remaining survivors, Ashley paid the ultimate sacrifice for his Nation laying down his life for his brothers. Those serving with Ashley that day agreed that had it not been for his commitment there would have been no survivors from the Battle of Lang Vei.
A portion of the Special Forces creed reads, "I will not fail those with whom I serve. I will not bring shame upon myself or the forces." Ashley did just that. He exemplified the very culture and tradition that every Special Forces organization strives to maintain and strengthen within its ranks today.
Lieutenant Col. Lewis Powers, commander of 3rd Bn., 5th SFG (A), reflected on the importance of honoring Ashley and his family on this day.
"We do this to honor Sgt. 1st Class Ashley and his family for their service and sacrifice to our Nation. Their sacrifice, like the sacrifice of our brothers we honor on Gabriel Field and that we will honor on Memorial Day, is an immensity that can never be repaid or honored enough," stated Powers. "While we can never effectively repay that sacrifice, we can always look for ways to recognize it and give some small token of thanks."
The dedication plaque, which hangs immediately outside the entrance to Ashley Hall, serves as a constant reminder to all Green Berets who pass through its doors of what duty, service, and sacrifice truly mean.
Written by Maj. Brandon Bissell
5th Special Forces Group (Airborne) Public Affairs