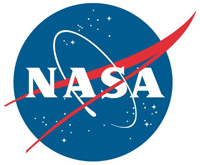 Pasadena, CA – A new image taken by NASA's Terra spacecraft using the Advanced Spaceborne Thermal Emission and Reflection Radiometer (ASTER) instrument it has on board reveals the extent of destruction from the deadly Newcastle-Moore tornado that ripped through central Oklahoma on May 20th, 2013.
The Newcastle-Moore tornado was rated at EF-5 on the Enhanced Fujita scale. An EF-5 is the most powerful category of tornado.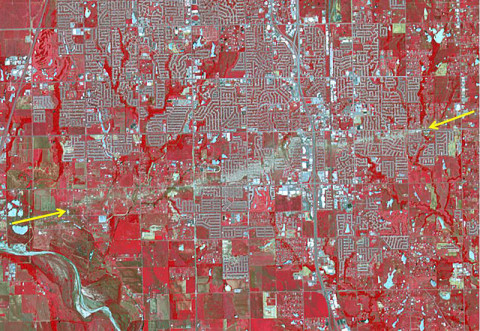 ASTER acquired this false-color image of the scar left on the landscape by the tornado's track on June 2nd, 2013. In the image, vegetation appears red, water is dark blue, roads and buildings are gray, and white and bare fields are tan.
The tornado's track crosses the image from left to right, as indicated by the arrows. The image covers an area of 6 by 8.6 miles (9.6 by 13.8 kilometers), and is located at 35.3 degrees north latitude, 97.5 degrees west longitude.
The Newcastle-Moore tornado had peak winds estimated at 210 mph (340 kilometers per hour). It remained on the ground for 39 minutes over a 17-mile-long path (27 kilometers). As of June 5th, the storm is known to be responsible for 24 deaths and more than $2 billion in damage.
With its 14 spectral bands from the visible to the thermal infrared wavelength region and its high spatial resolution of about 50 to 300 feet (15 to 90 meters), ASTER images Earth to map and monitor the changing surface of our planet.
ASTER is one of five Earth-observing instruments launched December 18th, 1999, on NASA's Terra spacecraft. The instrument was built by Japan's Ministry of Economy, Trade and Industry. A joint U.S./Japan science team is responsible for validation and calibration of the instrument and data products.
The U.S. science team is located at NASA's Jet Propulsion Laboratory, Pasadena, CA. The Terra mission is part of NASA's Science Mission Directorate, Washington, D.C. The California Institute of Technology in Pasadena manages JPL for NASA.
The image is online at: http://photojournal.jpl.nasa.gov/catalog/PIA16488 .
More information about ASTER is available at http://asterweb.jpl.nasa.gov/ .
Written by Alan Buis
NASA's Jet Propulsion Laboratory
Pasadena, CA