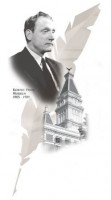 Clarksville, TN – If you weren't there, you should have been. Clarksville Writers' Conference attracted not only 70 or so attendees but a dozen or more published writers who brought to the stage star power no where else available in this area.

Take, for instance, Frye Gaillard, writer-in-residence at the University of South Florida and author of more than 20 books, who spoke at the superb gala dinner at The Point, the lovely dining room on the Cumberland River edge, just at sunset on Thursday night.

Gaillard reminded the hundred or more guests at the dinner that just across the river is Benfolly, the home of Allen Tate and Caroline Gordon, where the Fugitives, including luminaries like Robert Penn Warren, were fond of gathering.

Introduced by Dr. Joe Trainer, Professor Emeritus of the University of Tennessee, Gaillard talked also about his book, The Books That Mattered: A Reader's Memoir, and how books affect our lives. From his early years when Johnny Tremain and Huckleberry Finn were his favorites to his adulthood when All the King's Men (a Pulitzer Prize winner for Robert Penn Warren) became his all-time favorite book, Gaillard said that "books are a kind of magic that never grows old."

During the day you could have experienced the raucous sense of humor of George Singleton, author of eight hilariously funny books including Stray Decorum, Work Shirts for Madmen, and others. Singleton shared his experience with an over-80 editor in New York who kept insisting that dialogue of George's southern characters must read "want only" rather than the authentic "only want" that Singleton had written in his manuscript.

After writing "stet" (meaning to keep it like it was) scores of times, George added in the margin, "I want only to kill you!" Her condescending, "Do you people in the South not know this rule of grammar?" set George's teeth on edge to the point of no return. To compensate for his need for "stet" on this manuscript, George began writing a series of stories in which a character named "Stet" appeared in each!

He proceeded to read one of these called "Vaccination" that also featured his dog named "Tapeworm Johnson" on a trip to the vet. Needless to say, Singleton had his entire audience laughing throughout the entire lecture and no one was ready for him to quit speaking.

Following Singleton was Dale Ray Phillips from Murray State University in nearby Murray, Kentucky. Phillips' collection, My People's Waltz, was nominated for the Pulitzer Prize. Fiction editor for New Madrid, Journal for Contemporary Literature, Phillips discussed how difficult it is to find five great stories from the 300 or more submissions each quarter.

He gave great examples of opening lines from writers like Truman Capote in "The Grass Harp" to show writers that it is critical to capture your reader's attention immediately with a promise that you fulfill. He admonished all to be voracious readers of contemporary stories and to park one's derriere on the chair to write, write, write. He also advised writers to cut out every extraneous word because money in publishing is extremely tight.

Rheta Grimsley Johnson, national columnist formerly on the staff of the Memphis Commercial-Appeal and the Atlanta Constitution (now the Journal-Constitution), discussed her new book about Hank Williams, How Hank Hung the Moon. Rheta said that country music and the blues, her two favorite genres of music, have similar themes. Hank wrote "Your Cheatin' Heart" and the blues singer moans, "Another Mule Has Been Kickin' in My Stall." The themes are the same, just stated in a different way.

A sensitive writer whose career has been founded on bringing to the public eye the lives of ordinary people, Johnson talked about she never wanted to speak in public but has been doing so much of her life. She told about a 95-year-old who talked to her at length at a book signing and ended with "I feel like I've been reading you all my life." Her rules for writers include the three H's: honesty, humor and humility.

During Rheta's Friday lecture, she read from her book about Hank Williams prior to introducing Pamela Jackson, a songwriter who lives in Nashville and writes music with Davis Raines. Pamela enchanted the audience with "The Things We Live Through" that she wrote with Frye Gaillard and "I'm Going to Montgomery" co-written with Raines.

Rheta Johnson insists that writers need to listen carefully to lyrics of songs to stimulate their own writing to higher levels. Pamela Jackson said that even her grocery list rhymes and she thinks in rhythms. She ended her performance with her own melody, "Red Rock Heart." If you had been there, you could have heard both of these super women.

Speaking on Thursday afternoon, Tom Franklin, husband of Beth Ann Fennelly and close friend of the late William Gay, confessed that he is in mid-life crisis. Have written New York Times best-sellers like Crooked Letter, Crooked Letter and co-editor (with Brian Carpenter) of Grit Lit: A Rough South Reader, he has most recently co-authored The Tilted World with his wife; it is due out on October 1st, 2013.

Franklin said he is recreating his great comic book collection now over the Internet after foolishly having sold his originals to a dealer for $140.00 some time ago. He said he had a terrible education when he was a child and so found out from a friend when he was writing a book set in the 1800s that he could get all kinds of background by ordering the Sears Catalog on line; that along with newspapers from the time helped him give authenticity to the manuscript.

On Friday morning, Tom appeared with Dale Ray Phillips and George Singleton on the Grit Lit Panel. If you didn't hear anything else at this conference, this was a classic you should have made a number one priority. Having had a rather extensive pub crawl the night before, the three guys were still in top form to talk about life and literature.

Having fallen off the bed the night before and claiming a "Christ-like wound" (which Dale promptly corrected to "just a scratch!"), Tom gave a synopsis of what "grit lit" is about. Basically, Southern literature is divided into that about people from the "right side of the tracks" and the "not god country people from the wrong side,"

Tom advised his audience. "It's the dirty South seen without nostalgia." Grit Lit: A Rough South Reader, features short stories from people like the "Holy Trinity of Grit Lit"–Barry Hannah, Larry Brown and Harry Cruz—and others like William Gay whose "Where Will You Go When Your Skin Cannot Contain You: is a classic.

George read from "Jacksonville" and Dale read from "What It Cost Travelers." Both were unforgettable.

Then the conversation turned to stories about other Southern writers with several about William Gay. Tom wrote a piece for Oxford American after William died in 2012; Tom knew details like the fact that William cut his own hair and that he made ink out of walnut juice when he was a boy. Tom said, "William had something when he was born—talent!"

Friday afternoon Adam Ross, whose novel, Mr. Peanut, was on the cover of the New York Times Book Review, gave a superb examination of the writing of a novel equal to any graduate course on writing any where. Telling his own history of writing for years before publication of his novel and his collection of short stories, Ladies and Gentlemen, was published, Ross admonished writers to answer the question "Why is this night different from all other nights?" when they begin writing.

The beginning must mirror the end and lead the reader through the middle with unrelenting urgency. He said that people read to see the organization of a well-constructed plot in a desire that their lives were organized this way so that they could feel some sort of rudder in the chaos they face.

The end must climax with tying up loose ends, severing all ties if it fails at connection in a tragedy, casting a shadow at the future, and /or providing resolution if a connection is made. Adam is working on his third book, Playworld and has already been working on it for 22 months.

Friday ended with Ann Shayne's discussion of self-publishing Bowling Avenue, her novel of Nashville after the flood of 2010. Having previously established a highly successful blog to link with her co-authored Mason-Dixon Knitting: The Curious Knitter's Guide, Shayne said that publishing with Random House was like the banquet of authorship with all kinds of resources that the publisher provided, from editing to book tours to publicity and high-quality photography.

Self-publishing is a picnic where you plan everything yourself, pay for certain parts of the process where you need professional advice and then create a web site that makes success possible.

It is imperative to note that for each author I heard, another was also speaking at the same time. Chuck Sambuchino, editor of Writers' Digest's Guide to Literary Agents and author of Formatting & Submitting Your Manuscript and Create Your Writer Platform, always gives excellent advice to writers in how to get a book published and what to do to become successful.

Also Beth Ann Fennelly, an award-winning poet and author of several books, delights aspiring poets with her discussion of her books, Unmentionables, Open House, and Tender Hooks. She reads her poetry and then gives attendees a chance to write a poem based on an assigned topic; these are read and discussed in the class.

A new author this year at the conference, Janine Boldrin is a freelance journalist for Military Spouse magazine and author of The Thinking Spouse's Guide to Military Life. She spoke on writing and selling your life experience.

A perk of the conference is the possibility of meeting with two agents. This year Debbie Carter of New York-based Muse Literary Management and Gina Panettieri with Connecticut-based Talcott Notch Literary Services met with attendees for individual conferences on work each wishes to have published.

These meetings are free to attendees and can more than return the cost of the conference if a successful book deal results. Chuck Sambuchino also reviewed query letters with attendees–most helpful to new and not-so-new writers!

]See there! I told you that this is a not-to-be-missed opportunity. Plan on it next year—or you'll be sorry!

The conference is sponsored by the Clarksville Arts & Heritage Development Council in partnership with Austin Peay State University and the Tennessee Arts Commission. Executive Director for this year is Ellen Kanervo with Christopher Burawa as Conference Chairman, James Moore as Banquet Chairman, and Katie Kennedy as Registrar.
Photo Gallery
About Sue Freeman Culverhouse
Author of Tennessee Literary Luminaries: From Cormac McCarthy to Robert Penn Warren (The History Press, 2013) Sue Freeman Culverhouse has been a freelance writer for the past 36 years. Beginning in 1976, she published magazines articles in Americana, Historic Preservation, American Horticulturist, Flower and Garden, The Albemarle Magazine, and many others. Sue is the winner of two Virginia Press Awards in writing.

She moved to Springfield, Tennessee in 2003 with her sculptor husband, Bill a retired attorney. Sue has one daughter,  Susan Leigh Miller who teaches poetry and creative writing at Rutgers University.

Sue teaches music and writing at Watauga Elementary School in Ridgetop, Tennessee to approximately 500 students in kindergarten through fifth grade. She also publishes a literary magazine each year; all work in the magazine is written and illustrated by the students.

Sue writes "Uncommon Sense," a column in the Robertson County Times, which also appears on Clarksville Online. She is the author of "Seven keys to a sucessful life", which is  available on amazon.com and pubishamerica.com; this is a self-help book for all ages.

Web Site: http://culverhouseart.com/
Email:
Sections
News
Topics
Austin Peay State University, Beth Ann Fennelly, Christopher Burawa, Chuck Sambuchino, Clarksville Arts & Heritage Development Council, Clarksville TN, Clarksville Writer's Conference, Debbie Carter, Ellen Kanervo, George Singleton, James Moore, Katie Kennedy, open house, Rheta Grimsley Johnson, Tennessee Arts Commission, Tom Franklin, William Gay