Clarksville, TN – This past Saturday, June 29th, Dunbar Cave State Park held a Birds of Prey presentation as part of their Summer programs for the Clarksville community. Rebecca Davenport came down from Paris Landing State Park with three predator birds found in the local area; a Red-tailed Hawk, American Kestrel and Barred Owl.
The program was put on at 11:00am, 2:00pm and 5:00pm at the cool entrance to Dunbar Cave.
Davenport, along with Dunbar Cave Seasonal Interpretive Ranger Shawn Settle, explained to those in attendance about these elegant birds hunting habits, habitat and more. At the end of the program, visitors were able to lightly touch the Barred Owl while others had the American Kestrel perch on their arm.
I thought this was a good idea. It was very educational. My son, Aiden really enjoyed it. I really liked the hands on approach and that they let him be involved in that too," said Kayla Miller. "I would like them to come out again with different animals or maybe some animals that live around here."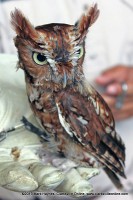 The program was free for all ages with no reservations needed. Children had to be accompanied by an adult.
"I feel that is important to bring activities like this to Dunbar Cave. It really helps show the Tennessee State Park system working together as a whole," stated Interpretive Ranger Shawn Settle. "With Dunbar Cave State Park being in the middle of Clarksville, it allows the public to be more involved with outdoor activities like Birds of Prey."
"We like to do Bird Programs. We do these programs at Paris Landing as well as at other Parks to help educate people about the Birds of Prey," said Rebecca Davenport.
"We like to make sure the public is educated on what they are and what they do. It is also important to watch out for these birds when going under overpasses and bridges so that you wont hit a bird of prey injuring it," stated Davenport.
There are programs and activities going on all summer at Dunbar Cave. For events going on this week, see: Dunbar Cave State Park Programs for July 1st through July 6th, 2013
Dunbar Cave State Natural Area is located at 401 Old Dunbar Cave Road in Clarksville, TN.
For more information, call Dunbar Cave State Park at 931.648.5526.
Photo Gallery