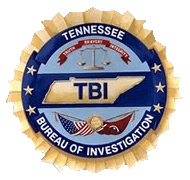 Nashville, TN – The Tennessee Bureau of Investigation (TBI) reports that local, state and federal investigators have captured the latest addition to the state's Top Ten Most Wanted list this morning in Nashville.
Tyler Fitzgerald Raybon-Tate, 20, of Nashville, was taken into custody at approximately 7:00am at 824 Charlie Court in Nashville without incident. U.S. Marshals received information that Raybon-Tate was in the area and when the U.S. Marshals, TBI and Metro Nashville Police entered the residence, they found the fugitive inside.
The vehicle involved in Monday morning's carjacking was recovered near County Hospital Road and Panorama and is waiting for transfer to Metro Nashville Police.
Raybon-Tate was wanted out of Rutherford County for aggravated burglary and Davidson County for aggravated kidnapping, carjacking, evading arrest, failure to appear and two counts of violating community corrections.
On July 5th, 2013, Tate and another individual committed an aggravated burglary at a residence in LaVergne, TN.
On July 8th, 2013, Tate carjacked a red 2012 4-door Ford Escape in Nashville. He was out on bond for criminal homicide.
Raybon-Tate will be booked into the Davidson County Jail.