Nashville Starter Johnny Hellweg Logs Six Shutout Innings For Eighth Victory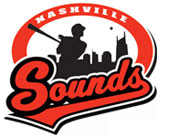 Metairie, LA – The Nashville Sounds topped the New Orleans Zephyrs Saturday night at Zephyr Field by a 8-5 margin, guided by Johnny Hellweg's impressive return start and offensive fireworks from Robinzon Diaz.
Hellweg (8-4) made his first start for Nashville since June 22 a good one, logging six innings of shutout baseball for his eighth quality start of the season. The 6-foot-9 hurler limited the Z's to two hits on a team season-high 108 pitches, walking four and striking out six.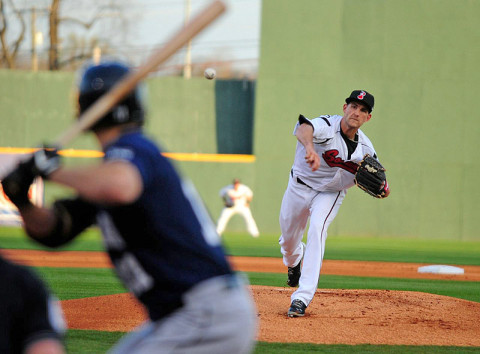 The victory is Hellweg's eighth and his seventh consecutive, the longest such streak by a Sounds pitcher this season, stretching back to his May 16 outing against Salt Lake City. Hellweg's has not allowed a run over his last 13 PCL innings.
Offensively, the Sounds scored first in the game using three hits and a walk in the second inning to take a 2-0 lead over the Zephyrs. Outfielder Khris Davis reached base with a single and scored on Anderson De La Rosa's base knock into right-center field. Following a wild pitch that moved De La Rosa to second, Cole Garner hit into shallow centerfield for an RBI.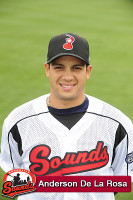 De La Rosa, 2-for-5, added to the Sounds lead with a double into left field which scored Hunter Morris from second.
In the following inning, third baseman Robinzon Diaz doubled the Sounds' lead with one swing of the bat, connecting for a home run to centerfield to make it 6-0. The homer scored Josh Prince and Scooter Gennett, who both singled to start the fifth.
The Z's picked up a pair of runs with two outs in the seventh inning. Reliever Travis Webb walked Kyle Jensen and then allowed an RBI-double to Gorkys Hernandez. Tim Dillard entered to pick up the final out, but not before Chris Valaika hit a double down the left-field line to make it 6-2.
The Sounds took back their six-run lead in the ninth inning with a two-run double from Kentrail Davis that scored Gennett, 2-for-5, and Hainley Statia, 1-for-1.
Zach Kroenke, Michael Olmsted and Rob Wooten also saw work on the hill for Nashville. Kroenke worked a scoreless eighth inning, before giving way to Olmsted, who let up a three-run homer in the ninth to Hernandez. Wooten entered with one out in the ninth to finish the game.
New Orleans' Duane Below (5-4) was charged with the loss, allowing Nashville three runs on five hits over four innings of work.
The Sounds will look to win the four-game series with New Orleans Sunday night at Zephyr Field. Throwing for Nashville will be RHP Jimmy Nelson (1-3, 3.62) opposite the Z's RHP Jay Jackson (1-0, 0.00).
Baseball returns to Nashville on Monday, July 22nd, for Peanut Free Night at Greer, presented by the Allergy, Asthma & Sinus Center.
Box Score
Nashville Sounds (35-66) 8, New Orleans Zephyrs (50-51) 5
July 20th, 2013
1
2
3
4
5
6
7
8
9
R
H
E
Nashville Sounds
0
2
0
1
3
0
0
0
2
8
14
1
New Orleans Zephyrs
0
0
0
0
0
0
2
0
3
5
6
0
a-Singled for Kroenke in the 9th.
BATTING
2B: De La Rosa, A (13, Below).
HR: Diaz, R (2, 5th inning off Varner, 2 on, 0 out).
TB: Prince; Garner 2; De La Rosa, A 3; Diaz, R 4; Hellweg; Gennett 2; Davis, Kh; Morris, H 2; Statia; Davis, Ke.
RBI: De La Rosa, A 2 (18), Garner (25), Diaz, R 3 (9), Davis, Ke 2 (4).
2-out RBI: Garner; De La Rosa, A; Davis, Ke 2.
Runners left in scoring position, 2 out: Hellweg; De La Rosa, A.
GIDP: Diaz, R.
Team RISP: 5-for-9.
Team LOB: 8.FIELDING
E: Gennett (4, fielding).
DP: (Prince-Gennett-Morris, H).
a-Walked for Varner in the 7th. b-Doubled for Mattison in the 7th. c-Walked for Phillips in the 9th.
BATTING
2B: Hernandez, Go (11, Webb), Valaika (1, Dillard), Skipworth (10, Olmsted).
HR: Hernandez, Go (4, 9th inning off Olmsted, 2 on, 0 out).
TB: Valaika 2; Brown, J; Skipworth 2; Hernandez, Go 6; Below.
RBI: Hernandez, Go 4 (22), Valaika (2).
2-out RBI: Hernandez, Go; Valaika.
Runners left in scoring position, 2 out: Kouzmanoff 2; Mattison; Green, N.
GIDP: Valaika.
Team RISP: 2-for-10.
Team LOB: 8.FIELDING
Outfield assists: Mattison (Davis, Ke at 3rd base).
DP: (Kouzmanoff-Valaika-Mahoney).
New Orleans Zephyrs
Player
IP
H
R
ER
BB
SO
HR
ERA
Duane Below (L, 5-4)
4.0
5
3
3
3
3
0
2.65
Rett Varner
3.0
5
3
3
0
3
1
2.70
Zach Phillips
2.0
4
2
2
1
3
0
2.45
Totals
9.0
14
8
8
4
9
1
3.71
WP: Below.
IBB: Garner (by Below), Davis, Kh (by Phillips).
HBP: Kouzmanoff (by Hellweg).
Pitches-strikes: Hellweg 108-65, Webb 13-7, Dillard 17-10, Kroenke 15-9, Olmsted 23-12, Wooten 7-5, Below 86-53, Varner 46-33, Phillips 42-24.
Groundouts-flyouts: Hellweg 8-3, Webb 1-0, Dillard 0-0, Kroenke 1-1, Olmsted 1-0, Wooten 1-0, Below 3-2, Varner 2-2, Phillips 3-0.
Batters faced: Hellweg 24, Webb 4, Dillard 3, Kroenke 3, Olmsted 4, Wooten 2, Below 18, Varner 14, Phillips 11.
Inherited runners-scored: Dillard 1-1.
Umpires: HP: Jordan Baker. 1B: Jordan Ferrell. 2B: Kolin Kline. 3B: Chris Segal.
Weather: 85 degrees, partly cloudy.
Wind: 4 mph, Out to LF.
T: 3:34.
Att: 6,589.
Venue: Zephyr Field.
July 20th, 2013