Ajax Distributing Company has been appointed to Introduce Handcrafted Ultra-Premium Rum in NorthWest Tennessee

Richland, GA – The Richland Distilling Company is appointing AJAX Distributing as its second distributor in Tennessee.
Ajax Distributing, based in Clarksville, TN, will introduce and distribute Richland Rum in the North-West part of the State. Richland Rum will be available in select retail stores, bars and restaurants in the Ajax Distributing's service area in the course of August 2013.
Introducing authentic, all natural, hand-crafted Domestic Rum
Richland Rum is proudly hand-made in Richland, GA, to rekindle the standards once set by makers of fine Rhum Agricole and Cachaça, while reversing the negative trend in quality expectations among consumers, brought on by mass production and bulk blending practices.
Sourcing and processing of pure, all natural sugar cane syrup, slow fermentation, copper pot distilling in single day batches, aging in American oak barrels and ultimately bottling when reaching maturity, are all handled on-premise, with one objective: to bring out the amazing purity, floral qualities, harmonious aromas and velvet elegancy of aged rum, made from natural sugar cane syrup.
"Richland Rum is honest and authentic and does not depend on celebrity endorsements or marketing ploys to project an imaginary experience as a substitute for quality" said Erik Vonk, the company's founder and proprietor. "Our Rum is not mass produced, not blended, not imported, does not contain any additives, preservatives or molasses and no aspect of our production has been outsourced".
Paul Turner, General Marketing & Operations Manager of Ajax Distributing Company added: "Richland Rum is a great addition to our growing spirits portfolio; its premium quality meets the increasing demand for high end, hand crafted and superior products by sophisticated consumers. We are delighted to be taking Richland Rum to our market and we take great pride in our partnership with the Richland Distilling Company".
About Richland Distilling Company

The Richland Distilling Company, based in Richland, GA, is a single product, family owned Craft Distiller, solely dedicated to making Richland Rum. All facets of producing Richland Rum are handled in house. Never, ever compromising on quality, the company uses time honored artisan techniques, all-natural ingredients and vintage equipment to hand-craft authentic, Ultra-Premium Rum in single day batches. Located in historic down town Richland, Georgia, the Distillery is open to the public.
Learn more at www.richlandrum.com and Richland Rum on Facebook www.facebook.com/richlandrum.
About AJAX Distributing Company, Inc.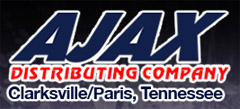 Ajax Distributing is a family owned and operated distributor of beer, soda, wine and spirits. The company has been serving the Clarksville and Paris areas of North Western Tennessee since 1933. Ajax has been selected by global suppliers including Heineken, Miller Coors, Sam Adams and Silver Creek Wines to represent them in the markets it has proudly served for so long.
Please visit www.ajaxdistributing.com for more information.
Sections
Business
Topics
Ajax Distributing Company, Cachaca, Fermentation, Heineken, Miller Coors, Paul Turner, Rhum Agricole, Richland Distilling Company, Richland GA, Richland Rum, Sam Adams, Silver Creek Wines, Tennessee