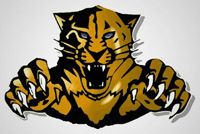 Clarksville,TN – Controlling play from the beginning whistle, Clarksville Academy's girls soccer team even their seasons record to 1-1 overall, as they shutout Kenwood High School Lady Knights, 4-0, August 21st at Winn Field.
The Lady Cougars scored two goals in each half, while out shooting the Lady Knights (0-1) 29-5 overall and 18-3 in shots-on-goal.
"It was nice to out here after a loss (August 18th to Northeast High School) and control play and the possession," Clarksville Academy coach Mary Beth Burchett said. "Plus we were able to get four goals by four different people. That's always nice to see as a coach."
The first of those four goals came in the 11
th
minute by Nicki Goad, as she took a pass from Mallory Burman and lofted it over the head of Lady Knights keeper Kylie Logue and into the back of the net for an early 1-0 lead.
It would stay that way until the final 30 seconds of the first half, when Gracie Whitlow found the back for the net, after she came up with the ball just to the left of the Kenwood net when the Lady Knights couldn't clear the ball out of their zone.
"We just have to work together a little bit better," Kenwood coach Gaylynn Devlin said. "We have a lot of new players and I think as we get closer to the middle to end of the season we'll find a lot more success. Right now I'm just trying to find a good combination and get these girls used to playing with each other."
In the second half, the Lady Cougars took up where they left off at the end of the first half, as Bailey Foote beat her defender and blasted a shot across the front of the goal and off the right post an into the net for a 3-0 lead.
"The thing I liked about today was that we got better as a team," Burchett said. "I got to see four different people score, but I also got to see different people make key passes for assists and the defense played well as a whole."
The Lady Cougars closed out the match's scoring in the 65th minute, with Sydney Halliday taking a perfect cross, from Foote, in front of the goal and put it in for the 4-0 final margin.
Hannah Holt was in goal for Clarksville Academy, recording three saves in the shutout, while Logue had 13 saves for Kenwood.
Clarksville Academy returns to action August 23rd, as they travel to Harpeth High, while Kenwood is off until August 26th when they travel to Nashville, TN to face Ensworth High.