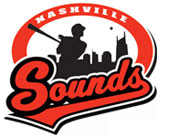 Oklahoma City, OK – Despite having a lead in extra innings to put the pressure on the home team, the Nashville Sounds were unable to fight off the Oklahoma City RedHawks Thursday night at Chichasaw Bricktown Ballpark and lost the series finale 5-4 in the 14th inning. The teams split their final series of the season, 2-2.
After tying the game at four runs apiece with two outs in the 12th inning, the RedHawks finished the job in the 14th when Jose Martinez hit the game-winning double down the left-field line to score infielder Raoul Torrez.
The 14-inning contest is the deepest into a game the Sounds have played this season, previously competing in three 12-inning games as their longest.
Tied 3-3 in the 12th inning, Sounds infielder Eugenio Velez came up with an RBI single up the middle which scored Kentrail Davis, 4-for-7, for the go-ahead run. Unfortunately for Nashville, the RedHawks answered with a run in the bottom of the frame.
Velez went 3-for-6 on the night and his single in the first inning extended his hit streak to a team season-best 18 games and improved his consecutive on-base streak to 32, which ties Sacramento's Daric Barton for the league's longest such streak this season.
The Sounds jumped out to an early lead courtesy of five hits in the first inning. Outfielder Sean Halton drove in two runs with a ground rule double in center field and came around to score on Hunter Morris' single to shallow center. Morris finished the night 3-for-6.
The RedHawks picked up a pair of runs in the home half of the fourth inning. Sounds starting pitcher Aaron Laffey allowed two leadoff singles to put runners on the corners and then chucked a wild pitch to give Oklahoma City their first run.
Later Che-Hsuan Lin hit a deep fly ball to centerfield to score Japhet Amador on a sacrifice fly, cutting the Sounds lead to one.
Laffey limited the RedHawks to two runs on four hits over six innings of work. His six-inning effort marks only the second time a Sounds starter has pitched that deep over the club's last 14 games. He struck out three and walked none to log his third quality start for Nashville.
Reliever Kyle Heckathorn logged one scoreless inning on the bump for Nashville.
Donovan Hand surrendered three consecutive singles to RedHawks batters to start the eighth inning; the last a weak grounder by George Springer that slipped into left field to score the game-tying run. Hand stayed in the game to deliver a scoreless ninth inning before  Johnnie Lowe picked up in extras.
Lowe pitched 2 2/3 innings for the Sounds and left the game in the 12th with a runner on second. Brent Leach (1-3) entered behind Lowe and allowed the runner to score on a base hit to send the game into the 13th inning. Leach finished the game for Nashville and was charged the loss, his third. Leach and Hand each were pegged with blown saves.
Jason Stoffel (7-1) picked up the win for Oklahoma City, limiting Nashville to one run on four hits over three innings of relief.
The Sounds return to Nashville for their final series of the season at Greer Stadium, where they will host the Iowa Cubs to a four-game set. Throwing for Nashville will be PCL Pitcher of the Year Johnny Hellweg (11-5, 3.16) opposite Iowa's LHP Brooks Raley (8-10, 4.56).
The game will be followed by a postgame fireworks extravaganza and one lucky fan will win a pair of tickets to the 2013 SEC Football Championship courtesy of Dr. Pepper.
Box Score
Oklahoma City RedHawks (80-60) 5, Nashville Sounds (54-86) 4
August 29th, 2013
1
2
3
4
5
6
7
8
9
10
11
12
13
14
R
H
E
Nashville Sounds
3
0
0
0
0
0
0
0
0
0
0
1
0
0
4
15
2
Okla. City RedHawks
0
0
0
2
0
0
0
1
0
0
0
1
0
1
5
13
1

One out when winning run scored.
BATTING
2B: Halton (29, Doran).
TB: Velez 3; Prince 2; Lalli; Halton 3; Morris, H 3; Davis, Ke 4.
RBI: Halton 2 (50), Morris, H (70), Velez (20).
Runners left in scoring position, 2 out: Parker, S; Halton 2.
GIDP: Diaz, R, Velez, Lalli.
Team RISP: 4-for-10.
Team LOB: 9.BASERUNNING
SB: Davis, Ke (8, 2nd base off Doran/Garcia, R), Velez (8, 2nd base off Doran/Garcia, R).
CS: Prince (8, 3rd base by Stoffel/Garcia, R).FIELDING
E: Lalli (7, throw), Statia (7, fielding).
PB: Lalli (10).
Outfield assists: Halton (Paredes at 2nd base).
BATTING
2B: Paredes (19, Lowe), Martinez, Jo (19, Leach).
TB: Crowe 2; Torrez; Amador, Ja; Martinez, Jo 4; Krauss; Springer 3; Paredes 3.
RBI: Lin (41), Springer (52), Paredes (36), Martinez, Jo (37).
2-out RBI: Paredes.
Runners left in scoring position, 2 out: Martinez, Jo; Garcia, R; Torrez; Lin 3.
SAC: Lin; Crowe.
SF: Lin.
Team RISP: 4-for-14.
Team LOB: 11.FIELDING
E: Paredes (13, fielding).
DP: 3 (Paredes-Torrez-Amador, Ja, Paredes-Amador, Ja, Torrez-Paredes-Amador, Ja).
IBB: Krauss (by Hand, D), Krauss (by Lowe).
HBP: Torrez (by Laffey).
Pitches-strikes: Laffey 70-47, Heckathorn 15-8, Hand, D 33-18, Lowe 40-25, Leach 25-16, Doran 108-68, Urckfitz 33-21, Cisnero 21-12, De Leon 24-20, Stoffel 31-25.
Groundouts-flyouts: Laffey 9-3, Heckathorn 2-0, Hand, D 3-3, Lowe 3-2, Leach 1-2, Doran 7-4, Urckfitz 3-0, Cisnero 1-3, De Leon 2-1, Stoffel 5-0.
Batters faced: Laffey 23, Heckathorn 4, Hand, D 11, Lowe 11, Leach 7, Doran 25, Urckfitz 8, Cisnero 5, De Leon 6, Stoffel 11.
Inherited runners-scored: Leach 1-1, Cisnero 1-0.
Umpires: HP: Brandon Misun. 1B: Spencer Flynn. 3B: Pat Hoberg.
Weather: 93 degrees, partly cloudy.
Wind: 7 mph, Out to CF.
T: 4:17.
Att: 5,695.
Venue: Chickasaw Bricktown Ballpark.
August 29, 2013