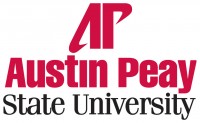 Clarksville, TN – Mees Fix, an Austin Peay State University physics student, thought he might be in trouble. He was outside of Chicago, analyzing white dwarf stars at Fermilab – the U.S. Department of Energy's national laboratory – when he noticed something strange. One of the stars was giving off way too much light energy.
"At first, I thought I broke something," he said. "I figured I messed something up. I walked over to Dr. Smith and said, 'check this out? What's going on here?'"
Dr. Allyn Smith, APSU professor of physics and astronomy, was at the lab – as he is most summers – as a visiting professor. He called over his Fermilab colleagues and APSU physics student Samuel Wyatt, who was also conducting summer research at the famed laboratory, to look at what Fix had found. They soon realized he'd identified a cataclysmic variable star.
"It's either a classic cataclysmic variable or a Nova-like cataclysmic variable," Smith said. "Both are interesting. With the Nova-like ones, we could get a huge flare-up, and if this one is close enough, we could see it in the daytime."
The unique cosmic body was hidden in the vastness of the night sky. It was first seen in the 1950s, but only observed about four other times since then.
"It took a young summer student to clean up the spectra that we recorded to identify it," Fermilab scientist William Wester said in an article on the Fermilab website.
Now, Fix has a lead on some groundbreaking research that would cause many seasoned astronomers to feel a little envious. He will spend the next few months examining spectra from the star, taken from high-power telescopes from across the globe. Fermilab officials were so impressed, they now want to use both Fix and Wyatt as the "recruiting poster children" of the lab's educational efforts.
The two APSU students joined Smith at the lab for 10 weeks this summer as part of a Research Experience for Undergraduates program. The two were nominated by Smith, and then had to apply for the highly selective program. Once at the lab, they quickly gained the respect of facility's faculty members.
"It's a great opportunity because they get a chance to work with researchers at a national institution," Smith said. "They get exposed to all kinds of other fields. We don't do particle physics here (at APSU)."
The REU program, which is funded by the National Science Foundation, provides grant money for undergraduate students to participate in innovative new research. Thousands of college students apply each year in different disciplines, with only a select few receiving the coveted REU awards.
For the last several years, the APSU Department of Physics has actively pushed for its students to apply for the program.
"Having Fermilab on the resume is extremely beneficial," Wyatt said. "Plus you get to have research experience with your name on it. And the possibility of being able to find something and get published is awesome, especially at our age."
Wyatt and Fix will be coauthors on a paper that results from their work at Fermilab. They went to the lab to conduct research for the Dark Energy Survey, which, according to the project's website, "is designed to probe the origin of the accelerating universe and help uncover the nature of dark energy by measuring the 14-billion-year history of cosmic expansion with high precision."
Fix will write a separate paper on the identification of the cataclysmic variable star, but that discovery does not relate to Dark Energy Survey.