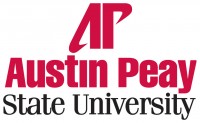 Clarksville, TN – Every October, the country's literary community eagerly awaits the release of the "Best American Series," celebrating the top writing published in the United States in a given year.
The anthologies are a Who's Who of a genre's current literary stars, but they also highlight the nation's preeminent magazines and journals that feature these works.
In late September, Dr. Amy Wright, Austin Peay State University associate professor of English, was reading over the list of essays mentioned in the "Best American Essays 2013" when she noticed several familiar names.
Wright is the non-fiction editor of APSU's Zone 3 literary journal, and that biannual magazine had five essays selected as "notables" in this year's "Best American" anthology.
"As an anthology, it's the highest accolade for an essay," she said. "It features all the best journals, the top tier literary journals such as The Sun, Harpers, The Atlantic. It very much puts us in the same camp as those prestigious journals."
The Zone 3 essays selected as notables include Diane Kraynak's "Lazarus," Dinty W. Moore's "Buried Alive," Sarah A. Odishoo's "Eat Me: Instructions From The Unseen," Alison Stine's "The Last Hotel" and Nicole Walker's "Skin of the Earth."
The Zone 3 literary journal was founded in 1985 by APSU English professors David Till and Malcolm Glass, and over the years it has developed a reputation as one of the south's pre-eminent journals of poetry and fiction. But it wasn't until 2008, shortly after Wright arrived on campus, that the journal began publishing non-fiction.
"That's just six years we've had of getting the word out and taking submissions," Wright said.
The journal's non-fiction section received a boost in 2010 when it published a piece by noted essayist Ander Monson. That work was listed as a notable in "The Best American Essays 2010."
"That anthology is how writers find out where to submit," Wright said. "I'm sure Ander's winning helped us gain some notoriety. Now, we're getting the best possible submissions out there. The ones that are coming to us are incredibly strong."
Those submissions first go to a panel of seven student editors. They read the essays and decide which ones Wright should consider. That means the APSU students played a role in getting the four essays listed in the "Best American" anthology.
"They choose which ones deserve to come forward," Wright said.
"The Best American Essays 2013," edited by renowned essayists Cheryl Strayed and Robert Atwan, will be released on October 8th, and it will be available in most local bookstores and online at www.amazon.com. Issues of Zone 3, featuring the "notable" essays, are available for purchase on the journal's website.