Clarksville, TN – With its starting setter sidelined, Austin Peay State University's volleyball team won a gritty Ohio Valley Conference contest in four sets (25-23, 26-24, 18-25, 25-20) against Southeast Missouri, Friday night, at the Dunn Center.

Austin Peay (7-14, 4-1 OVC) entered the match with junior setter Cami Fields ruled out due to illness. The Lady Govs turned to sophomore setter Aubrey Marsellis, who held the fort admirably in her first career start.

She recorded 49 assists on 63 APSU kills and had four kills of her own while posting team bests in blocks (five) and digs (16).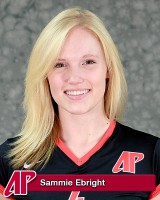 The match's first two sets were wire-to-wire battles with neither team enjoying a sizeable lead. The opening frame saw the teams fight through 10 ties and five lead changes. Southeast Missouri fought back from a 20-17 deficit to take 23-22 lead.
Freshman Sammie Ebright turned the score around, scoring a kill to get service back and then posting a service ace to give APSU a 24-23 lead. Junior Jada Stotts closed the set with a kill for the 25-23 win.
Southeast Missouri (9-10, 2-3 OVC) jumped out to a 5-1 lead in the second set, but Austin Peay scored five straight points with senior Lauren Henderson serving to take a brief 6-5 lead.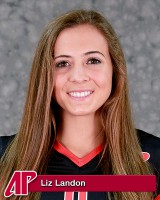 The Lady Govs would build a 21-17 lead late in the set only to watch the Redhawks close that gap with a 4-0 run to tie the set 21-21. Junior Liz Landon stopped the run and the two teams traded the next six points. Henderson provided a kill to get set point and Stotts close the set with another kill for the 26-24 victory.

The Redhawks nearly won the third set in wire-to-wire fashion, but the Lady Govs put forth an impressive effort to keep the runaway from occurring. Southeast Missouri opened with four straight points and built a 10-2 lead. Austin Peay would stop the run thanks to a Stotts kill and cut the lead to 10-6 with a 4-0 run.

The Lady Govs would close the gap completely thanks to an 8-4 burst, with Henderson providing back-to-back service aces to tie the set 17-17. However, the Redhawks closed the frame with an 8-1 run to win 25-18.

Austin Peay turned the tables in the fourth set, winning nearly wire-to-wire. Southeast Missouri led 2-1 but Stotts posted three straight kills to give APSU a 4-2 lead they would not relinquish. The Lady Govs fended off a 5-0 Redhawks run en route to a 25-20 match-clinching victory.

Ohio Valley Conference Standings

School
OVC
Overall
West
Austin Peay
4-1
7-14
Eastern Illinois
3-2
9-9
SIUE
3-2
7-11
Murray State
2-3
12-7
Southeast Missouri
2-3
9-10
UT Martin
2-3
8-13

Stotts showed signs of her old form, leading Austin Peay with 17 kills and adding 11 digs. Henderson chipped in 14 kills, three service aces and three blocks. Ebright had 12 kills and 13 digs.

Austin Peay recorded 63 kills offensively but at just a .199 attack percentage. The Lady Govs made up for the poor hitting night with seven service aces and eight blocks.

Colleen Yarber led Southeast Missouri with 14 kills while Emily Coon added 10 kills. Southeast Missouri finished with 47 kills but posted a .164 attack percentage.

Austin Peay will seek to extend its three-match home win streak and four-match conference win streak when it hosts UT Martin in a 2:00pm, Saturday contest at the Dunn Center.
Box Score
Southeast Missouri vs Austin Peay
(October 11th, 2013 at Clarksville, TN)
Southeast Missouri
ATTACK
SET
SERVE
SRV
DEF
BLOCK
GEN
##
Player
SP
K
E
TA
PCT
A
SA
SE
RE
DIG
BS
BA
BE
BHE
Points

2

BAYLIN, Andrea

4

7

6

35

.029

1

1

0

2

18

2

0

2

0

10.0

5

COON, Emily

4

10

6

31

.129

0

0

0

0

3

0

2

0

0

11.0

6

SHIVES, Julie

4

2

0

9

.222

42

1

0

0

13

0

2

1

1

4.0

9

MASTERSON, Taylor

4

7

1

15

.400

0

1

0

0

3

5

2

0

0

14.0

12

YARBER, Colleen

4

14

5

45

.200

1

0

1

1

10

1

1

0

0

15.5

14

WERTHS, Madalyn

2

3

2

10

.100

0

0

0

0

2

1

1

1

0

4.5

8

STRANGES, Meredith

1

0

0

0

.000

0

0

0

0

0

0

0

0

0

0.0

11

IDEL, Berkley

4

0

0

2

.000

2

1

0

2

13

0

0

0

0

1.0

13

KEEVE, Kelsey

2

4

1

12

.250

0

0

0

0

1

0

0

0

0

4.0

15

MORTIMER, Jade

4

0

0

0

.000

0

2

0

0

2

0

0

0

0

2.0

TEAM

2

Totals

4

47

21

159

.164

46

6

1

7

65

9

8

4

1

66.0

TOTAL TEAM BLOCKS: 13.0
TEAM ATTACK BY SET
Set
K
E
TA
Pct
Sideout
Pct

1

12

5

50

.140

14-24

58%

2

13

6

39

.179

14-26

53%

3

12

6

31

.194

9-18

50%

4

10

4

39

.154

13-25

51%

50-93

53%

SET SCORES
1
2
3
4
TEAM RECORDS

Southeast Missouri

(1)

23

24

25

20

9-10, 2-3 OVC

Austin Peay

(3)

25

26

18

25

7-14, 4-1 OVC
Austin Peay
ATTACK
SET
SERVE
SRV
DEF
BLOCK
GEN
##
Player
SP
K
E
TA
PCT
A
SA
SE
RE
DIG
BS
BA
BE
BHE
Points

2

HULL, Calyn

4

7

4

29

.103

0

0

0

0

4

0

0

1

0

7.0

4

EBRIGHT, Sammie

4

12

7

33

.152

0

2

0

0

14

0

0

0

0

14.0

7

MARSELLIS, Aubrey

4

4

3

10

.100

49

2

4

0

16

2

3

1

0

9.5

8

LANDON, Liz

4

9

2

22

.318

0

0

1

0

4

0

2

0

1

10.0

12

HENDERSON, Lauren

4

14

7

23

.304

3

3

0

0

5

1

2

1

0

19.0

14

STOTTS, Jada

4

17

7

49

.204

0

0

0

3

13

1

1

2

0

18.5

3

ADAMS, April

4

0

0

0

.000

2

0

0

1

11

0

0

0

0

0.0

5

BALES, Lizzy

4

0

0

0

.000

0

0

0

2

9

0

0

0

0

0.0

Totals

4

63

30

166

.199

54

7

5

6

76

4

8

5

1

78.0

TOTAL TEAM BLOCKS: 8.0
TEAM ATTACK BY SET
Set
K
E
TA
Pct
Sideout
Pct

1

16

8

52

.154

15-24

62%

2

18

8

36

.278

14-24

58%

3

10

8

33

.061

9-25

36%

4

19

6

45

.289

13-20

64%

51-93

54%

Site: Clarksville, Tenn. (Dunn Center)
Date: Oct 11, 2013 Attend: 323 Time: 1:50
Referees: Denise Penzkofer, Anthony Marshall


| | | | | | |
| --- | --- | --- | --- | --- | --- |
| | 1 | 2 | 3 | 4 | Total |
| Tie scores | 10 | 13 | 1 | 2 | 26 |
| Lead changes | 5 | 5 | 0 | 1 | 11 |
Sections
Sports
Topics
APSU, APSU Athletics, APSU Sports, APSU Volleyball, APSU Women's Volleyball, Aubrey Marsellis, Austin Peay, Austin Peay State University, Cami Fields, Clarksville, Clarksville TN, Colleen Yarber, Digs, Dunn Center, Emily Coon, Govs, Jada Stotts, Kills, Lady Govs, Lauren Henderson, Liz Landon, Ohio Valley Conference, OVC, Redhawks, Sammie Ebright, SEMO, Southeast Missouri, Tennessee, UT-Martin, volleyball