Clarksville, TN – Austin Peay State University's football team got down 14-0 to Tennessee Martin after one quarter of play, October 26th at Governors Stadium, on their way to both a Ohio Valley Conference and a Homecoming loss, 38-14.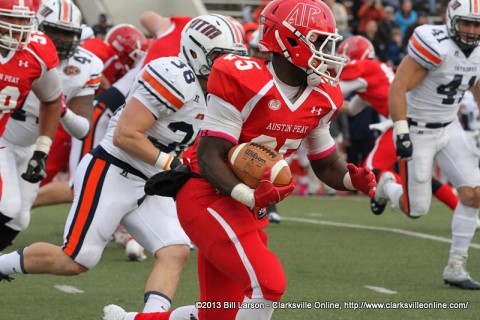 The Governors (0-8, 0-4 OVC) gave up the two first-quarter scores on the first two drives of the game for Tennessee Martin, with the Skyhawks only needing four plays to go 58 yards on their first possession – including a 31-yard run by Abou Toure to cap the drive, and a 7-0 lead after Jackson Redditt's extra-point kick at the 11:09 mark.
Austin Peay only gained one first down on its next drive and had to punt the ball back to Tennessee Martin, with their second drive starting at their own 22 yard line.
The Skyhawks (5-3, 3-2 OVC) would grind out a 14-play drive over the next 5:21 for its second straight touchdown, with tailback D.J. McNeil going in from nine yards out, with 3:41 left in the opening quarter.
McNeil had seven rushes during the drive for 38 yards and finished with 114 total yards rushing in the game.
The score was still 14-0 when Austin Peay came up with the first turnover of the game late in the quarter.
Reese Bulmash hurrying Skyhawks quarterback Jarod Neal into a hurried pass over the middle that was intercepted by John Shuler, who returned it 14 yards down to the Skyhawks 34-yard line.
The Govs would turn the miscue into seven points, as six plays later freshman quarterback Timarious Mitchell found junior Darryl Clack in the end zone for a five-yard touchdown pass – the first TD pass of the second for Austin Peay – cutting the deficit to 14-7, with 14:13 left before intermission.
Austin Peay would come up with its second interception of Neal on the Skyhawks next drive, but weren't able to turn it into points, turning the ball over on downs at the Tennessee Martin 37, with 11:20 left in the first half.
The Skyhawks would respond to its defense's stand by marching down the field and putting the ball into the end zone on a 21-yard pass play from Neal to Jeremy Butler to make it 21-7.
It was still 21-7 as the two teams started the second half, but Tennessee Martin took its opening drive of the third quarter 78 yards for a touchdown, with Butler catching his second TD pass of the game from Neil to make it 28-7.
Butler finished with 171 yards on 11 catches, while Neal totaled 293 yards through the air on 21-of-33 passes, with two interceptions.
Tennessee Martin would score its final touchdown of the game on its next drive, after holding Austin Peay to a three-and-out, with Trent Garland capping a four-play 69-yard drive with a four-yard TD run, making it 35-7 midway through the third quarter.
The two teams traded punts on the next two drives of the game, but the Govs took its last possession of the third quarter 85 yards on nine plays for a touchdown, capped by Clack's second TD catch of the game from Mitchell – this time from six-yard out as the clock went to zero to end the third quarter with the Govs trailing 35-14.
Mitchell finished with 100 yards passing on 12-of-26 attempts – including 46 of those yards going to Jamaar Embry on six catches.
Omar Williams led the Govs in rushing with 122 yards on 25 carries.
Both teams' offensives failed to do much in the final 15 minutes of play, with the only points of the quarter come on a 38-yard field goal by Redditt for Tennessee Martin for the 38-14 final.
The Govs return to action November 2nd, as they host Jacksonville State University for an OVC contest, starting at 4:00pm.
Photo Gallery
Box Score
UTM (5-3,3-2) vs. Austin Peay (0-8,0-4)
Oct 26th, 2013 | Clarksville, TN | Governors Stadium | Attendance: 6014
| | | | | | |
| --- | --- | --- | --- | --- | --- |
| Score by Quarters | 1 | 2 | 3 | 4 | Score |
| UT Martin Skyhawks | 14 | 7 | 14 | 3 | 38 |
| Austin Peay Governors | 0 | 7 | 7 | 0 | 14 |
SCORING SUMMARY
UTM -APSU

1st

11:09

UTM

TOURE, Abou 31 yd run (REDDITT, Jackso kick)

4 plays, 58 yards, TOP 1:11

7 – 0

03:41

UTM

McNEIL, DJ 9 yd run (REDDITT, Jackso kick)

14 plays, 78 yards, TOP 5:15

14 – 0

2nd

14:13

APSU

CLACK, Darryl 5 yd pass from MITCHELL, Timarious (DUNLAP, Chase kick)

6 plays, 34 yards, TOP 2:26

14 – 7

08:42

UTM

BUTLER, Jeremy 21 yd pass from NEAL, Jarod (REDDITT, Jackso kick)

6 plays, 63 yards, TOP 2:38

21 – 7

3rd

11:01

UTM

BUTLER, Jeremy 6 yd pass from NEAL, Jarod (REDDITT, Jackso kick)

8 plays, 78 yards, TOP 3:53

28 – 7

08:34

UTM

GARLAND, Trent 4 yd run (REDDITT, Jackso kick)

4 plays, 69 yards, TOP 1:00

35 – 7

00:00

APSU

CLACK, Darryl 6 yd pass from MITCHELL, Timarious (DUNLAP, Chase kick)

9 plays, 85 yards, TOP 3:36

35 – 14

4th

06:11

UTM

REDDITT, Jackso 38 yd field goal

6 plays, 31 yards, TOP 1:31

38 – 14
Kickoff time: 4:01 pm • End of Game: 7:05 • Total elapsed time: 3:04
Referee: Stephen Hazle • Umpire: John Short • Linesman: Chris Barney • Line judge: John Smoot • Back judge: Mike Boshers • Field judge: Burney Jenkins • Side judge: Paul Schardein •
Temperature: 58 • Wind: SW 15 • Weather: Cloudy
2013 Homecoming Game.
| | | |
| --- | --- | --- |
| Team Totals | UTM | APSU |
| FIRST DOWNS | 23 | 13 |
| Rushing | 9 | 10 |
| Passing | 13 | 2 |
| Penalty | 1 | 1 |
| NET YARDS RUSHING | 189 | 218 |
| Rushing Attempts | 31 | 37 |
| Average Per Rush | 6.1 | 5.9 |
| Rushing Touchdowns | 3 | 0 |
| Yards Gained Rushing | 207 | 234 |
| Yards Lost Rushing | 18 | 16 |
| NET YARDS PASSING | 293 | 114 |
| Completions-Attempts-Int | 21-33-2 | 15-31-0 |
| Average Per Attempt | 8.9 | 3.7 |
| Average Per Completion | 14.0 | 7.6 |
| Passing Touchdowns | 2 | 2 |
| TOTAL OFFENSE YARDS | 482 | 332 |
| Total offense plays | 64 | 68 |
| Average Gain Per Play | 7.5 | 4.9 |
| Fumbles: Number-Lost | 1-1 | 0-0 |
| Penalties: Number-Yards | 7-61 | 6-54 |
| PUNTS-YARDS | 3-158 | 8-314 |
| Average Yards Per Punt | 52.7 | 39.2 |
| Net Yards Per Punt | 52.7 | 33.2 |
| Inside 20 | 2 | 0 |
| 50+ Yards | 2 | 1 |
| Touchbacks | 0 | 1 |
| Fair catch | 1 | 4 |
| KICKOFFS-YARDS | 7-428 | 3-169 |
| Average Yards Per Kickoff | 61.1 | 56.3 |
| Net Yards Per Kickoff | 46.0 | 47.0 |
| Touchbacks | 1 | 0 |
| Punt returns: Number-Yards-TD | 1-28-0 | 0-0-0 |
| Average Per Return | 28.0 | 0.0 |
| Kickoff returns: Number-Yds-TD | 3-28-0 | 6-81-0 |
| Average Per Return | 9.3 | 13.5 |
| Interceptions: Number-Yds-TD | 0-0-0 | 2-14-0 |
| Fumble Returns: Number-Yds-TD | 0-0-0 | 0-0-0 |
| Miscellaneous Yards | 0 | 0 |
| Possession Time | 26:32 | 33:28 |
| 1st Quarter | 6:41 | 8:19 |
| 2nd Quarter | 7:34 | 7:26 |
| 3rd Quarter | 6:26 | 8:34 |
| 4th Quarter | 5:51 | 9:09 |
| Third-Down Conversions | 3 of 8 | 4 of 15 |
| Fourth-Down Conversions | 0 of 1 | 0 of 2 |
| Red-Zone Scores-Chances | 3-3 | 2-4 |
| Touchdowns | 3-3 | 2-4 |
| Field goals | 0-3 | 0-4 |
| Sacks By: Number-Yards | 0-0 | 1-16 |
| PAT Kicks | 5-5 | 2-2 |
| Field Goals | 1-1 | 0-1 |