Clarksville, TN – Justin Dickens has made a few stops in his career in the sports information profession since graduating from Austin Peay State University, including two Super Bowl trips and his current job as associate director of public and media relations for the University of Michigan football team, but traces all of that back to his four years as a student assistant under current Govs Sports Information Director Brad Kirtley.
A 2003 bachelor of science degree in public relations graduate returned to Austin Peay for the first time in five years, October 26th, as he was honored in the Morgan University Center Ballroom as one of the two Outstanding Young Alumnus Award recipients for 2013 by the university.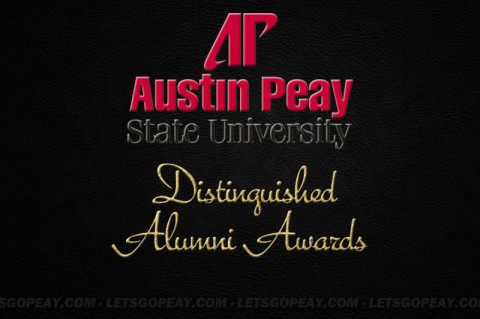 "It feels good to be back," Dickens said. "I came in on (October 24th) just to be back down south and to be back here. The campus has changed so much and the city changed so much since I've been here, but it's neat to be back."
Dickens, who along with current Los Angeles Dodgers catcher A.J. Ellis received the Outstanding Young Alumnus Award from the University and the Alumni Relations Office honored, while the other honorees include Outstanding Service Award recipients Robert Smith ('81) and Bill Joe Jeans ('68) and Outstanding Alumni recipients Jim Charlet ('63), Susan Wright Cole ('86) and Lt. Gen. Ronald Bailey ('77).
"It's an honor and it's humbling," Dickens said. "But at the same time it's kind of uncomfortable for me because I never look at what I do like that. The guy I think of is Brad (Kirtley) and that they should be honoring him.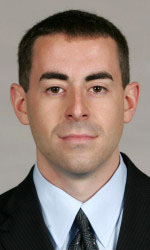 "Everything I learned, I learned here in the Dunn Center in that little office over in the corner with a lot of long days and late nights. As great of an SID as he is, he is even a better person and I'm indebted to him, coach (Dave) Loos and all the other people here at Austin Peay."
His first stop after Austin Peay was graduate school at the University of Georgia in 2004, where he worked in the SID office where he was the primary public relations contact for women's soccer, men's and women's track and field and cross country programs and assisted with the nationally ranked football program and men's basketball team.
"That year was probably the longest year of my life," Dickens said. "As a graduate assistant, I was taking about 15 semester hours and working about 80 hours with sports information.
"But it was probably the best thing for me, because it will never be as bad as that again as far as hours go. I got so much experience in different sports and different people on a higher profile level than Austin Peay."
After earning his master's degree, Dickens spent seven seasons with the Indianapolis Colts organization, starting as an intern before being hired as an assistant in 2005.
Dickens spent two years as an assistant (2005-06) prior to his promotion to manager of publicity for the final four-plus seasons (2006-10).
"It was just an opportunity I couldn't pass up," said Dickens of working in the NFL. "There were a lot of fulltime jobs in college I could have had, but when you're young you have aspirations that you want to do things and when the opportunity in the NFL came up I went and it was a great experience."
While with the Colts, Dickens got to be a part of the greatest run the team had experienced since its move from Baltimore (MD) to Indianapolis (IN) including trips to Super Bowl XLI and XLIV.
"Those environments (the Super Bowl), there's nothing like it," Dickens said. "It's kind of surreal, especially for me because I've never looked at it like it's about me, but to be on the field and have the airplanes going over.
"I don't ever really get nervous, not playing, but to see some of our guys at the ultimate level … the best players in the world … have tears come down their eyes during the National Anthem, forgetting what play to run on the first play of the game, because they're so amped up too, you realize the significance of it."
But even with the Super Bowl trips, Dickens says it was the people he worked with and around that had the years there special.
"Being able to work with people like coach (Tony) Dungy, Peyton (Manning), Edgerrin (James) and Marvin (Harrison) and being there at the pinnacle of their careers as an organization, going to Super Bowls was great," he said. "But it was just the experience of working with the people that I did. There's not a better person in the world than coach Dungy and I was pleased to work with him."
Coach Dungy also had words of praise for Dickens, who sent this message to be read at the awards reception.
"I had the pleasure of working with Justin when I was head coach of the Indianapolis Colts and he was just great," he said. "But I am so proud of what he is doing now at the University of Michigan because he is helping so many players develop as men.
"Justin is a special young man and I'm grateful to have had the chance to work with him."
Dickens would make the move to the University of Michigan in 2010, where he currently heads the public and media relations for the Wolverine football program
"It's a big deal for me because we have 115 kids on the team that you're kind of responsible for them in a lot of ways," he said. "It's not always easy with the long hours, but to me it's so much more rewarding seeing the changes in the kids and know that you had a role in that — it's the special part for me."