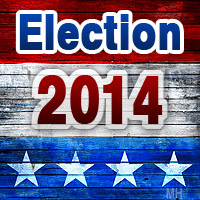 Clarksville, TN – Bill Summers formally announced his candidacy for Mayor of Clarksville Monday evening on the stage of the auditorium in the Customs House Museum.

"Tonight, I am officially announcing to you and all of Clarksville that I am a candidate for the Office of Mayor for the City of Clarksville," Summers announced.

It was the introduction to a speech outlining the aspects of leadership he will bring to the position of Mayor as well as a synopsis of the major issues he will address.

Summers is currently serving in his second term as City Councilman for Ward 10. He was re-elected to the position in 2010 with over 81 percent of the vote. He is also an Industrial Engineering and Technology Consultant to universities and the Clarksville-Montgomery County School System.

Summers has been married to his wife Cindy for 33 years and has two daughters: Christina and Catie (lost to cancer in 2007).

He earned his B.S. in Industrial Management from the University of Tennessee and his Masters in Management from Webster University. He has also served in the Military.

In 2009, Summers was named the William O. Beach Citizen of the Year, Montgomery County.

Summers believes his service in the military in addition to his service as City Councilman are a few of many assets in leadership he will bring to the Office of Mayor for the City of Clarksville.

"Leadership will be the overriding issue in this election," Summers said. "It is the leadership that will be elected that not only determine Clarksville's growth and prosperity for the next four years, but if it's the right leadership, will determine and address the growth and prosperity prospects for the next 10 to 20 years."

"Tonight I stand before you and offer the leadership skills and abilities I have obtained through education, career experience and help try to provide Clarksville a vision of it's growth and future prospects."

Summers listed and defined several aspects of leadership he plans to provide if elected Mayor including Imagination, Communication and Motivation.

He also highlighted his stance on the following major issues:
Strategic Planning
Financial Responsibility
Public Safety
Infrastructure
Small Business Job Creation and Retention.
Summers said he decided to run for the Office of Mayor to help Clarksville take advantage of opportunities and accomplish its needs.

"The motivation was, there are a number of things I think our city needs to accomplish. I think there is opportunity out there," Summers said. "I've always been one active to try to get some things accomplished and I believe I can probably generate the motivation and energy to go after some of the opportunities that I think are out there."

"I just want to be active. I want to see the city grow and prosper, but we need to establish some plans and get everything in place to do that. "

More information about Summers and his campaign are available at www.summers4mayor.com

He can also be reached via Email: and Facebook: summers4mayor
Photo Gallery
About Marlon Scott
Marlon Scott is a freelance journalist and writer. He graduated from Austin Peay State University in 2011 with a B.S. in Communications, majoring in Communication Arts with a concentration in print and web journalism.

His writing career began as a sports writer for The All State, the APSU student newspaper, in 2006. He continued working for the paper until his graduation, serving in various positions including Sports Editor and Editor-in-Chief.

In 2010, Scott contributed stories and photographs as well as designed and served as Editor-in-Chief for the monograph, Civic Art of Clarksville: The stories behind the pieces.

Scott has also produced 60 stories for The Leaf Chronicle.

You can find him on twitter @theMarlonScott and on Facebook
Sections
Politics
Topics
Bill Summers, cancer, City Council Ward 10, City of Clarksville, Clarksville, Clarksville City Councilman, Clarksville Mayor, Clarksville Montgomery County School System, Clarksville TN, CMCSS, Customs House Museum, Customs House Museum and Cultural Center, University of Tennessee, Webster University