Clarksville, TN – Austin Peay State University women's track and field team opens its indoor season with one pre-Christmas meet, at Middle Tennessee's Christmas Invitational, Saturday, in Murfreesboro.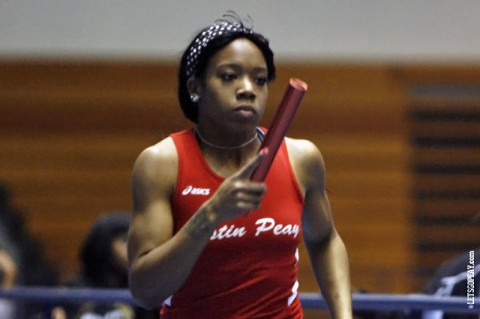 Four squads will be in attendance at this event. In addition to host Middle Tennessee, Austin Peay will face athletes from Western Kentucky and fellow Ohio Valley Conference foe Tennessee State over the course of 14 events. All three opposing squads opened their seasons earlier this week at Vanderbilt's Music City Challenge.
"Our kids are excited," said head coach Doug Molnar. "They've been practicing hard all fall in preparation for this meet. I'm excited to see where we're at."
A young squad will represent the Lady Govs at the Murphy Center. Nine freshmen will be competing in their first indoor meet for Austin Peay, with Molly Jordan and Unjala Lester moving in from strong cross-country seasons.
"We've had such a solid fall practice, but we're still so young," Molnar said. "This will be a new experience for a lot of them and hopefully, they'll perform well and be inspired to train hard over the break. If they don't run well, hopefully it will motivate them to train even harder."
A pair of returnees look to build on solid 2013 campaigns. Sophomore Kymmalett Ross, who led the Lady Govs in the 200m indoor event and ended last indoor season a tenth of a second shy of breaking Selena Lockridge's school indoor record, set in 2000. Junior hurdler Natalie Olberding, the Ohio Valley Conference's defending champion in the 400m outdoor hurdles, begins her first full indoor slate as a Lady Gov.
Upperclassmen Erika Adams and Kendra Kirksey also will compete for the Lady Govs this weekend. Kirksey, a senior distance runner, will be counted on to fill the void in distances left by Chantelle Grey's graduation while Adams will be relied on again in the 55 and 60m events; she led Austin Peay in both disciplines last season.
"Our sprinters will be a main cog for us this season," Molnar said. "We heavily recruited in that area and brought in some good athletes on top of what we already had."
The Lady Govs return to action at the SIU Open, January 10th, in Carbondale, IL.