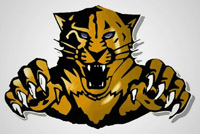 Clarksville, TN – With three starters out and unavailable, December 20th at Procter Court, Clarksville Academy just didn't have the offensive firepower to matchup with District 10-A opponent East Robertson, as the Cougars fell to the Indians, 54-28.
With senior Thomas Jackson and juniors Josh Anderson and Ian Campbell out, Clarksville Academy (3-6, 1-3 District 10-A) put up a valiant effort early-on, getting out to a 5-2 lead behind five quick points by Austin Fisher, in the first 1:56.
Fisher would lead Clarksville Academy with 15 points.
But East Robertson (6-3, 3-1 District 10-A) answered right back with back-to—back 3s from Seth Stroud to take a 8-5 lead at the 5:21 mark.
The Cougars would score two of the next three baskets – including a three from Taylor Haston – to tie the game 10-10, with 3:48 remaining in the opening quarter.
A three-point play by the Indians Marquece Bell would put East Robertson back up 13-10, before the Cougars Donavan Boatright knocked down a bucket with 1:35 left to close out the first-quarter scoring, with Clarksville Academy trailing by one, 13-12.
It was in the second quarter where things would start to go south for the Cougars, as the Indians opened the period with two 3s from Lane Murphy to build a seven-point lead, 19-12, just sixty seconds into the quarter.
Clarksville Academy would hold the Indians scoreless over the next 3:07, but they would only be able to score four points themselves over that stretch to narrow the gap to three points, 19-16, with just under four minutes left in the first half.
East Robertson would close out the second quarter by not allowing the Cougars another point in the first half, while scoring seven points to go into intermission up 10 points, 26-16.
As tough as the second quarter was for the Cougars to put points on the board the third quarter was even tougher, as Clarksville Academy was only able to put three points on the board in the period – coming in a three-point bucket by Fisher at the 4:54 mark – while East Robertson continue to build its lead out to 19 points, 38-19, at the end of the third quarter.
The final eight minutes would see the Cougars score more points in that period than they did in the previous two combined, 9-7, but were still outscored overall by East Robertson in the quarter, 16-9, to finish the night with a 26-point loss, 54-28.
Clarksville Academy will return to action right after Christmas, as the Cougars will participle in the Stewart County High School Christmas Tournament December 27th, 28th and 30th.
Photo Gallery
Box Score
East Robertson 54, Clarksville Academy 28
| | | | | | |
| --- | --- | --- | --- | --- | --- |
| | 1 | 2 | 3 | 4 | Final |
| East Robertson Indians | 13 | 13 | 12 | 16 | 54 |
| Clarksville Academy Cougars | 12 | 4 | 3 | 9 | 28 |
East Robertson: Marshall Wix 17, Clay Massie 2, Marquece Bell 7, Seth Stroud 9, Lane Murphy 9, Logan Seay 2, Lane Eden 8. Team totals 21 6-11 54.
Clarksville Academy: Jake Rugen 2, Taylor Haston 6, Sam Lipsey 2, Austin Fisher 15, Donavan Boatright 3. Team totals 11 1-2 28.
3-point field goals: East Robertson 6 (Wix 2, Stroud 2, Murphy 2), Clarksville Academy 5 (Haston 2, Fisher 3).
Records: East Robertson 6-3, 3-1 District 10-A; Clarksville Academy 3-6, 1-3 District 10-A.