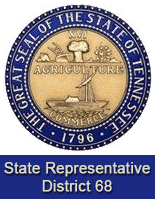 Nashville, TN – Tennessee State Representative Curtis Johnson (R-Clarksville) announced that the Tennessee Department of Transportation has awarded a contract to Highways, Inc. for $23,688,830.25 for the purpose of widening U. S. Highway 41 from McAdoo Creek Road to east of State Route 76.

It will take up to one year for the utility work, such as moving utility poles and communication lines, etc, to be completed before the construction work can be started.

The completion date for this project is May 31st, 2016.

"This project has been needed for a long time," Rep. Johnson said. "The project will be done in phases to maintain traffic flows and elevation changes. I am anxious for this project to be completed," Johnson concluded.



Sections
News
Topics
Curtis Johnson, Hwy 41, McAdoo Creek Road, Nashville TN, SR-76, State Route 76, TDOT, Tennessee Department of Transportation, Tennessee State Representative