Clarksville, TN – The eternal battle of the sexes takes a witty and suspenseful turn in the Roxy Regional Theatre's 29th annual Shakespeare offering, the timeless comedy "Much Ado About Nothing", March 7th-15th.
Taylor Galvin and Brandon Beach star as reluctant lovers Beatrice and Benedick, whose endless witty sparring threatens to keep them apart forever. Meanwhile, the two young lovers Claudio and Hero, played by Michael Spaziani and Michelle Foletta, are to be married imminently but for the devious scheming of a resentful prince looking to thwart the nuptials.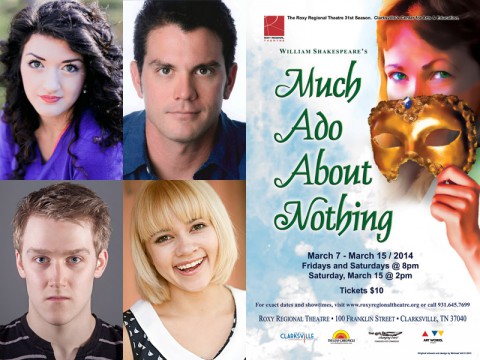 A masquerade ball provides the setting for a case of mistaken identity, reminding us all of the failings and triumphs of the human condition in our never ending search for perfect love.
This witty romantic comedy also features Ted Jones as Don Pedro, Kevin Buchanan as Leonato, Eli Jolley as Don John, Leslie Greene as Conrade and various ladies-in-waiting, Jake Jessup as Borachio, Ashton Crosby as Dogberry and Ted Kitterman as Verges. In a script edited by Jim Ryan and directed by John McDonald, "Much Ado About Nothing" will be presented in modern dress.
This production is made possible in part through the generous support of The City of Clarksville. Additional funding support has been provided by Melissa A. Schaffner.
"Much Ado About Nothing" plays at 8:00pm on March 7th, 8th, 14th and 15th, with a 2:00pm matinee on Saturday, March 15th. All tickets are $10.00 and may be purchased online at www.roxyregionaltheatre.org, by phone at 931.645.7699, or at the theatre during regular box office hours (9:00am to 2:00pm, Monday through Friday, and one hour prior to curtain).
The Roxy Regional Theatre is located at 100 Franklin Street in Downtown Clarksville.