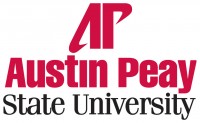 Clarksville, TN – Faculty and staff members at Austin Peay State University recently announced a number of achievements as part of their professional and scholarly activities.
Dr. Dixie Dennis, associate provost for grants and dean of the College of Graduate Studies, recently contributed three chapters to the new scholarly book, "The A-Z of Death and Dying: Social, Medical, and Cultural Aspects," edited by Michael Brennan. Dennis wrote the chapters, "Definition of Death," "Funerals" and "Near-Death Experiences."
Michele Tyndall, project manager for APSU Public Relations and Marketing, co-presented a session February 19th at the Council for the Advancement and Support of Education (CASE) District III annual conference held in Orlando, FL.
The title of the presentation was "Something Special: Collaborating to Customize Material to Target New Donors," which examined ways public relations and development offices could introduce the application of personalized print and digital communication for specific donors.
Tyndall discussed collaborating with development and production of print materials, while co-presenter Dr. Melony Shemberger, assistant professor in the Department of Journalism and Mass Communications at Murray State University in Murray, KY, discussed various copy writing techniques for such projects.