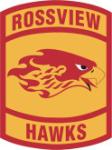 Clarksville, TN – Rossview High School's baseball team jumped out to a 5-1 lead after two innings, March 26th, on its way to handing the Northeast High School Eagles their first District 10-AAA loss of the season by a 10-5 final.
Trailing 1-0 after the first half inning of play, the Hawks (7-5, 3-1 District 10-AAA) tripled their scoring output from the March 24th 5-1 loss to the Eagles, by scoring three runs on three hits – while also being aided by a Northeast error.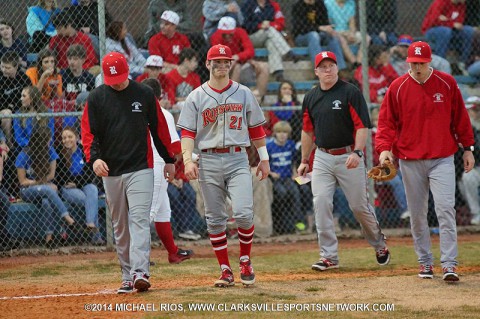 Dillon Johnson would open up the inning with a double and moved to third base on an error by Northeast (7-2, 3-1 District 10-AAA) third baseman Devin Runkle.
Truman Brown would than follow with a game-tying single and putting runners at first and third with no outs.
Kevin Kane would put the Hawks up for good by following Brown with a two-run single to make it 3-1.
"We needed a big bound-back with the offense today after the loss to Northeast on Monday," said Rossview assistant coach Corey Gunter, who was leading the team with head coach Jason Rice having to sit out the contest after being ejected in Monday's loss. "Give Northeast credit for their win, but our guys came out today with a good mental approach and put up a three spot in the first and followed with two more runs in the second."
The two runs in the second inning for Rossview, to make it 5-1, came via a two-run single by Lawson Moquin, who drive in Collin Baber and Johnson – who had reached on a single and walk respectively.
"We played from behind the entire game," Northeast coach Dustin Smith said. "I was really disappointed in our kids because I felt like I had to give the energy to play when you're playing a district team in town, a city team, you shouldn't have to give your team energy when they should come to the park ready to play."
The score would remain that way until the top of the fifth inning, when Northeast cut into the Hawks lead by scoring two runs.
Eric Webster would start things off with a one-out single and move to second when Landon Dennis reached on an error by Rossview first baseman Bradley Wilson.
After a fielder's choice, Webster would score on a steal of home –on the back side of a double steal – followed by Ben Wilford singling in Clayton Caskey to make it 5-3.
But Rossview responded with three runs in the bottom of the inning, with the first two coming in on a double by Wilson — driving in Wesley Boone and Collin Maddalena – while Blake Williams doubled in Wilson to make it 8-3.
"We always talk about the shutdown inning, when we score, we come out and put a zero up and keep the momentum going," Smith said. "But today, every time we core they came out and put one or two runs up to take the momentum away from us."
Northeast would make it 8-5 in the top of the sixth inning, with two runs, the first coming in on a throwing error by the Hawks catcher, while the other came in on a ground out by Evan Frawley.
But Rossview matched the two Eagles runs with two of its own in the bottom of the inning, the first coming in on a Northeast error, while the final run of the game came in on a sacrifice fly by Wilson.
"We're an old team," Gunter said. "Some people don't realize that with all the seniors we had last year, but we replaced them with some strong players and we expect them to make plays.
"We had a couple of break downs early, but we came back from them and that's what we expect, that's what they did tonight and I'm proud of them.
Rossview returns to action March 27th, as they host Logan County (KY) High School in a 5:00p.m. contest, while Northeast travels to Hixson, TN to participate in the Pounder Invitational March 27th through 29th.