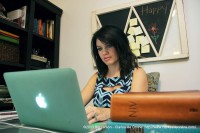 Clarksville, TN – Work. Work. Work. Study. Complain. Work. Worry. Clean. Write. Crumble. Cry. Work. This has been my existence.
My dogs were skunked last night. Not a little: like warfare of liquid fire raining upon our home. More good news: one of my dogs is nursing nine one-week-old pups. Now I am picturing nine helpless, blind little puppies withering away from the toxicity of rancid stench upon the bosom of their mother.
My thoughts (and the words I spoke aloud to my husband): "I feel like Job." Life has been so difficult for so long, and the hits just keep coming.
The infamous Job lost his family, his home, even his farm animals and nearly his mind.
No
, life isn't really that bad but some days, my doomsday mentality takes over, and I feel that the horizon is closing in and stealing my breath and crushing my chest.
This is a classic tale, but it bears repeating: the losses that we have experienced the last few months and years, combined with some major "life stressors" have nearly broken me, but God has never left me.
Last night in a moment of skunk-infused self-pity, I thought of Job. Then I remembered that I own a Bible. I have been reading a few verses a week on my phone, but not really studying the Word lately.
Then this morning (after bathing the dogs several more times while wearing a bank-robber style bandana around my face), I stood up and said aloud, "I am going to spend sometime with Jesus Christ," as if it were a verbal contract, once spoken, unable to be broken.
I picked up my Bible and opened it straight to Job (without fumbling or flipping a single page or making an effort).
This is what I read:
Then Bildad the Shuhite replied to Job (In Job 8:1-7):

"How long will you go on like this?
You sound like a blustering wind.
Does God twist justice?
Does the Almighty twist what is right?
Your children must have sinned against him,
so their punishment was well deserved.
But if you pray to God
and seek the favor of the Almighty,
and if you are pure and live with integrity,
he will surely rise up and restore your happy home.
And though you started with little,
you will end with much.
I am certain that to my friends (if I have any left after these trying times) would agree that I too sound like a blustering wind.
But if you have studied Job, you know that his "friends" were not all knowing (luckily my friends aren't jerks).
Much of their counsel has well-meaning general truths, but they were callous in their assumptions that Job and his family had done something to deserve this "punishment."
So why does it seem that struggles compound themselves like a sarcophagus around us, even when we are doing our best?
It is true that we and our children have sinned against God, and we ought to justify him in all he brings upon us and ours; but extraordinary afflictions are not always the punishment of extraordinary sins, but sometimes the trial of extraordinary graces; and, in our judgment of another's case (unless the contrary appears), we ought to take the more favourable side, as our Saviour directs, Luke 13:2-4. Here Bildad missed it.[1]
Bildad missed it. He missed the meaning of Job's losses. He assumed they were a punishment of something well deserved by a sinful family. Bildad missed it, but so do we. These words struck me, "…but sometimes the trial of extraordinary graces…"
What are "extraordinary graces"?
"Grace" derives from the Greek, charis. In secular Greek, charis was related to chairo, "to rejoice." As far back as Homer it denoted "sweetness" or "attractiveness." It came to signify "favor," "goodwill," and "lovingkindness" — especially as granted by a superior to an inferior.[2]
Thanks to Job, today I have a renewed perspective. I know in my heart that all the "bad" that is happening is paving the way for potential blessings, and perhaps even an extension of extraordinary grace from my Father.
How is He protecting us from something more heartbreaking? How is He saving us from ourselves? What prayers does he refuse to answer for our own sake? What renewal of life and hope is waiting for us?
The more time I spend with Him, the more I can see His plan. The more I trust Him, the more I lean on Him. The more I lean into Him for understanding, the more peace I feel. The more I make Him my one and only Master, holding no idols before Him, the more I can feel his reassurance and promise of blessings if I do not quit seeking Him for all of my "answers."
I have allowed myself to feel like a victim for far too long. I am not being punished. My life is not in ruins. Whether I have a lot of a little, I will rejoice in him.
Consider it pure joy, my brothers and sisters, whenever you face trials of many kinds, because you know that the testing of your faith produces perseverance. Let perseverance finish its work so that you may be mature and complete, not lacking anything. (James 1:2-4)
Perseverance is painful and exhausting, but without it we cannot be mature and complete and we will always lack ____________ (something). So with the love and grace of God, I will consider it pure joy, my brothers and sisters, whenever I face trials of many kinds and I will I learn the secret of being content in any and every situation, whether well fed or hungry, whether living in plenty or in want (James 1:2-4 & Philippians 4:12).
This is my prayer.
---
[1] Matthew Henry Commentary