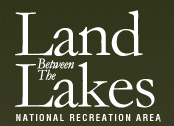 Golden Pond, KY – Land Between The Lakes National Recreation Area plans to conduct an Environmental Assessment for a land and resource management project to improve forest health in the Pisgah Bay Area in Lyon County, Kentucky.
The project will follow requirements of the National Environmental Policy Act (NEPA) 40 CFR 1500-1508.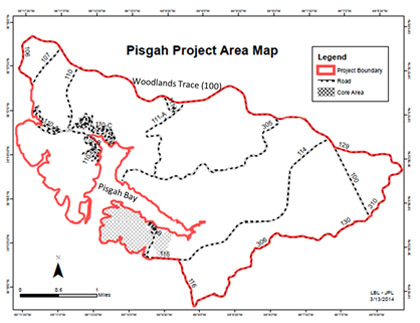 The public can comment on the Pisgah Bay Environmental Assessment as outlined in the project scoping letter found
here
. The scoping comment period ends April 21st, 2014. Comments can be emailed to
.
For more information relating to this proposal, contact Dennis Wilson, Forester, by email: ; or by telephone 270.924.2070.
Project Summary
The Pisgah Bay Interdisciplinary Team plans to integrate ecology, education, recreation, wildlife, heritage, and silviculture–the science of forest management–to restore the oak-hickory and Shortleaf Pine tree stands native to the area.
In addition, plans include removing invasive species choking these native plants, herbs, grasses, and young trees. Proposed actions include prescribed fire, herbicide treatment of non-native invasive species, timber treatments, and a rerouting of approximately 2.7 miles of the North/South Trail to stop degradation of the landscape.
Roads will also be addressed. Anticipated plans include replacing culverts while improving conditions on approximately 31.7 miles of Forest Service roads. Four miles of the 300 numbered Forest Service roads in the project area have been identified as causing degradation within the watershed.
These actions will open up the canopy allowing sunlight to reach the forest floor. Approximately 5,160 acres will be affected by these restoring and regenerating treatments. Popular trails and recreation areas lie within the project area. These include the North/South Trail, Hillman Ferry Campground, Hillman Heritage National Recreation Trail, Star Camp, Pisgah Point, Birmingham Ferry, and Woodlands Trace National Scenic Byway.
Project Location
The 5,160 acres project area sits adjacent to Pisgah Bay at the north end of Land Between The Lakes in Lyon County, Kentucky (see map under Project Documents http://www.lbl.org/nepa_project.html?project=43992). It is bounded by Forest Service Road (FS Rd) 306 to the south, FS Rd 129, FS Rd 310 and Woodlands Trace to the east, Kentucky Lake to the west, and FS Rd 106 and Woodlands Trace to the north.
Land Between The Lakes National Recreation Area, managed by the Forest Service, U.S. Department of Agriculture, offers 170,000 acres of forests and open lands along with 300 miles of undeveloped shoreline to 1.4 million visitors a year.
Located in Western Kentucky and Tennessee, programs focus on outdoor recreation, environmental education, and land management. More information can be found online at www.lbl.org. USDA is an equal opportunity provider and employer.